Video of Ronny Jackson Daring Biden to Come Take His AR-15 Viewed 1M Times
A video of U.S. Representative Ronny Jackson of Texas challenging Joe Biden to take away his AR-15 rifle has been seen by over one million people on Twitter, with most users responding with harsh criticism to Jackson's words.
Jackson, a Republican who served as physician to the president under both Barack Obama and Donald Trump before being elected to Congress in November 2020, shared a video of himself on his Twitter profile on Sunday challenging the president to "come and take" his assault-style rifle.
"I will NEVER give up my firearms. I will NEVER surrender my AR-15. If Democrats want to push an insane gun-grab, they can COME AND TAKE IT!," Jackson wrote in the post accompanying the video.
"I have a message for the Biden administration. If you're thinking about taking our ARs, you can start here in Texas," Jackson said in the video while holding two assault-style rifles in his arms. "On behalf of all the law-abiding gun owners in the state of Texas, I just want to say, come and get it."
Jackson's stance is common among Republican politicians who oppose limiting the purchase and use of firearms in the country, including a ban on AR-15-style rifles.
One critic of Jackson dubbed him "a deranged, unhinged lunatic" and another pointed out that in the video, Jackson was holding the rifles in a way that could have endangered his own safety, as one of the rifles was pointing at his foot and did not appear to have the safety on.
Talks of regulating the purchase and distribution of assault-style rifles like the AR-15 have been recently revived in the aftermath of deadly shootings at a supermarket in Buffalo and an elementary school in Uvalde, Texas where both attackers were armed with AR-15-style firearms.
Only a few weeks after the Uvalde shooting on May 24 that left 19 children and two teachers dead, another gunman killed seven people and injured more than 30 people at a Fourth of July parade in Highland Park, Illinois.
In early June, Biden called on Congress to re-introduce a ban on assault-style rifles or at least raise the age legally necessary to be able to buy such firearms from 18 to 21 —a move criticized by many gun activists.
In the historic gun control bill signed by the president later that month, tougher background checks were introduced for all buyers younger than 21, but there was no specific mention of AR-15-style rifles.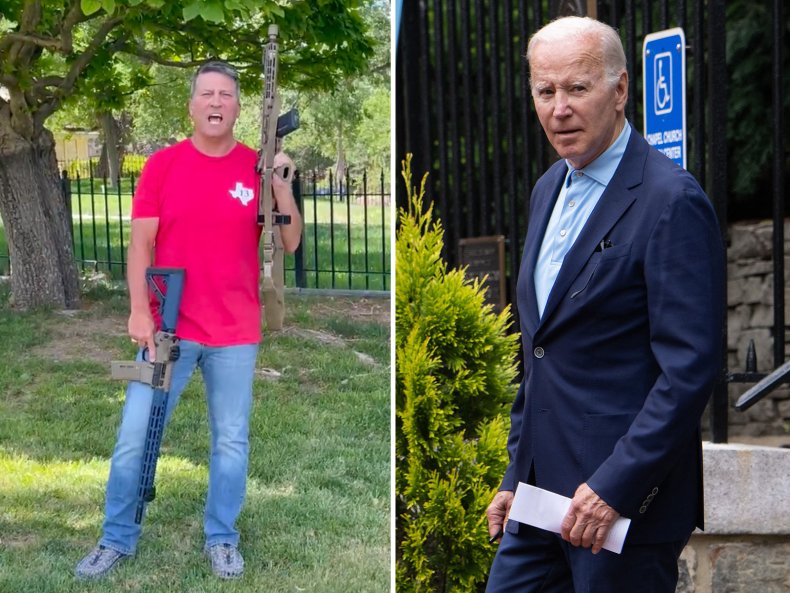 Now, House Democrats say they're considering legislation that would ban semi-automatic rifles that have military features and can hold 10 or more rounds of ammunition.
"Over the past several decades, our country has witnessed senseless killing after senseless killing and each time one fact has remained remarkably consistent—the weapon of choice for mass slaughter is a high-powered assault weapon," House Judiciary Committee Chairman Jerry Nadler said in a statement. "It is beyond frightening and disturbing that a weapon that was designed as a tool of war has found its way into the hands of 18-year-olds and onto our streets. Any weapon that allows for the quick and efficient slaughter of children in our schools has no place in our communities."
In May, the congressional committee investigating the Capitol riots sent a letter to Jackson asking about texts sent between members of the Oath Keepers on January 6, saying that members needed to protect Jackson because he had "critical data to protect."
The committee's letter also asked Jackson about photos he posted of himself at the "Stop the Steal" rally on January 6 and his movements on that day.
In a statement, Jackson said he would not participate in the committee's investigation.
"I do not know, nor did I have contact with, those who exchanged text messages about me on January 6," Jackson said in a statement. "I will not participate in the illegitimate Committee's ruthless crusade against President Trump and his allies."
In 2021, Jackson was among the 14 House Republicans who voted against recognizing Juneteenth as a federal holiday. In the same year, he accused Democrats of making up the Omicron COVID-19 variant to push for mail-in ballots.