Video: Rudy Giuliani Takes in Table Dance During Israel Holiday, Appears to Enjoy It
After a bruising few weeks doing the rounds in the media to defend President Donald Trump over the Stormy Daniels scandal, Rudy Giuliani threw off any worries he may have and indulged in a little table dancing while on holiday in Israel.
The former mayor of New York, and present lawyer for an embattled Trump, was caught on camera swirling a napkin around his head, bobbing up and down and grinning like a Cheshire cat as the bass thump, thump, thumped in a Jerusalem restaurant.
Footage of Giuliani, which appears to have been captured on a mobile phone by someone in the restaurant, was posted to Twitter by Yael Freidson, a Jerusalem-based journalist for Israeli publications Yedioth Ahronoth and Ynet.
Giuliani has whipped up controversy during his Israel trip. At a conference on capital markets, Giuliani made comments which could put the precarious Trump-Kim summit in jeopardy.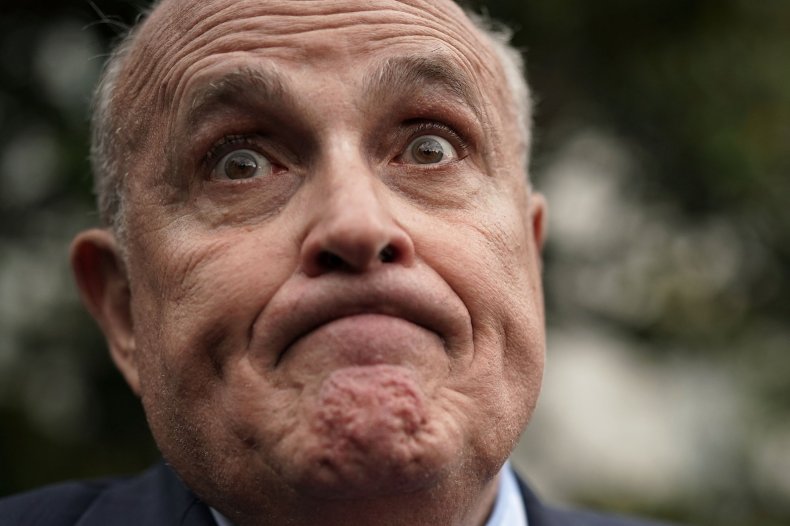 He said Kim Jong Un "got back on his hands and knees and begged" for the summit to take place after Trump cancelled it during a diplomatic row between Washington and Pyongyang. Trump later agreed to hold the summit after receiving a letter from Kim.
During the same conference appearance, Giuliani also made controversial remarks about the porn star Stormy Daniels, real name Stephanie Clifford, who claims she had an affair with Trump—which he denies—and signed a $130,000 hush deal before the 2016 election.
Now she's in a legal wrangle with Trump over that nondisclosure agreement after coming forward about the alleged affair. Giuliani contrasted Daniels with the "classy women" Trump had married and said he has less respect for porn stars than other women "or a woman of substance."
He also said being a porn star "entitles you to no degree of giving your credibility any weight" and "she has no reputation" because "if you're going to sell your body for money, you just don't have a reputation."
"Someone who sells his or her body for money has no good name," Giuliani said.
Speaking to CNN's Anderson Cooper, Daniels' attorney Michael Avenatti called Giuliani an "absolute pig" for his comments.
"Mr. Giuliani is a misogynist," Avenatti tweeted. "His most recent comments regarding my client, who passed a lie detector test and who the American people believe, are disgusting and a disgrace. His client Mr. Trump didn't seem to have any 'moral' issues with her and others back in 2006 and beyond."
The last time Giuliani appeared in the media to talk about Stormy Daniels he landed Trump in hot water and was forced to backtrack on his statements.
Giuliani revealed that Trump had repaid his longtime attorney Michael Cohen for the $130,000 hush payment to Daniels, which he had arranged. This appeared to contradict Trump's assertion that he knew nothing of the payment made on his behalf by Cohen.
When asked by a reporter aboard Air Force One in April if knew about Cohen's payment at the time, Trump said: "No."
Giuliani later clarified that Trump did not know what the reimbursement was for, and Cohen had told the president they were simply "expenses," preserving the president's claim of ignorance.