VIDEO: Russia Claims Foreign Mercenaries Hit With Missile Strike in Ukraine Near NATO Member Poland
The Russian Ministry of Defense has released video footage that it says shows "foreign instructors and mercenaries" based at a military installation in northern Ukraine, near the border with Poland, being "destroyed."
The footage, according to the ministry, shows "monitoring of the strike with precision weapons at the training center of the 132nd Reconnaissance Battalion of the Air Assault troops of Ukraine in the Zhytomyr region."
"As a result of an accurate missile strike, the personnel of the battalion, foreign instructors and mercenaries were destroyed. The military infrastructure and military equipment of the center were also disabled," the Russian military statement said.
The low-resolution footage appears to show a military vehicle and a base from the sky, with a crosshair in the middle of the screen. The footage then switches to black-and-white images and shows a large explosion.
NATO forces have been reluctant to impose a no-fly zone over Ukraine despite President Volodymyr Zelensky's repeated requests for them to do so as civilian casualties continue to rise.
But the United States and the European Union, along with the United Kingdom and their allies, have been providing significant military support as Ukraine's military and civilians resist the Russian forces amid widespread reports that they have become bogged down.
Former British prime ministers John Major and Gordon Brown have backed a campaign calling for the creation of a Nuremberg-style international war crimes tribunal to investigate Russian President Vladimir Putin and other planners of the Russian invasion of Ukraine, now in its fourth week.
Along with Major and Brown, Ukrainian Foreign Minister Dmytro Kuleba and Benjamin Ferencz, who is 102 years old and who prosecuted Nazi war criminals at Nuremberg, have also signed on to the proposal.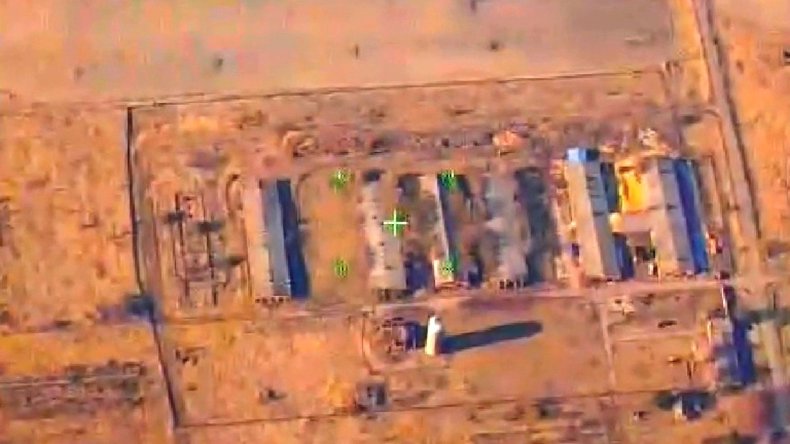 The activist organization Avaas, whose website says the group "empowers millions of people from all walks of life to take action on pressing global, regional and national issues, from corruption and poverty to conflict and climate change," claims that more than 1.3 million people have signed its own petition calling for Putin to be put on trial.
In a message it addresses to "World leaders," Avaas says: "As citizens from across the world, we urgently call on you to hold Putin and his accomplices personally accountable for their illegal invasion of Ukraine by creating a new Special Tribunal for the punishment of the crime of aggression. We also call on you to fully support the International Criminal Court's separate investigation into alleged war crimes and crimes against humanity in Ukraine. There will never be peace without such accountability — we are counting on you."
This story was provided to Newsweek by Zenger News.