Video Shows Russian Tank Rip Apart Trees With Gunfire in Ukraine Firefight
Drone footage shared on Twitter earlier this week shows a Russian tank unleashing powerful attacks against Ukrainian forces.
The war has surpassed its eleventh month of fighting, and firefights persist throughout Ukraine as Russia continues to encroach on the territory. Ukraine has continued to return fire, bolstered by ammunition, equipment and other materials supplied from its Western allies, including the United States.
The footage shows a Russian BMPT, commonly referred to as a Terminator, operating alongside a Russian tank as it rolls through a forest at the frontlines of the Russia-Ukrainian war. The tank begins firing at the Ukrainian forces, and the ammunition is strong enough to rip apart the trees and cause them to crash down. There are massive clearings shown in the forest where the firefight destroyed mature trees.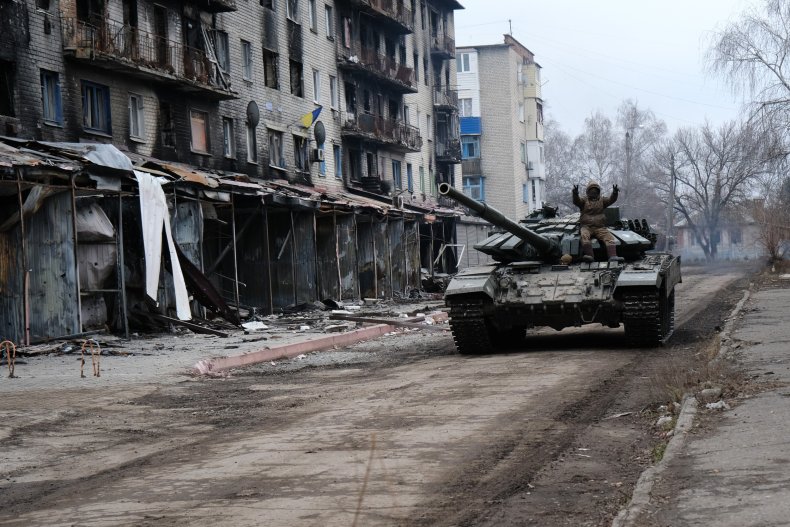 "Rare footage of a Russian BMPT operating alongside a Russian tank," a Twitter user tweeted with a nearly minute-long clip of the footage.
The Russian vehicle is firing off screen, but then the footage shifts and shows a damaged Ukrainian tank. A soldier tumbles out of the vehicle and falls on hands and knees before beginning to crawl away.
An article by Zvezda, a Russian television channel, said the footage was released by the Russian Defense Ministry. The article said the Ukrainians' position was revealed by Russian aircraft and unmanned aerial vehicles. The article said Ukrainian forces suffered injuries and fled from battle.
According to an article by Business Insider, the Terminator is equipped with numerous weapons and is designed to fire at multiple targets at the same time. The Terminator can carry five operators, four of which manage the weapons.
Mark Cancian, a senior advisor with the Center for Strategic and International Studies, told Newsweek in an email that the Terminators are similar to the Bradley Fighting Vehicle used by the U.S.
Cancian estimated there are only one or two dozen Terminators used by Russians in the war.
Heavy military equipment has been vital for both sides during the war, with Russia utilizing missiles and other equipment to bomb key infrastructure important to Ukraine's energy grid. Despite Russia's heavy attacks, the nation has suffered setbacks in the war, such as failing to maintain possession of Kherson and also failing to seize Kyiv early in the war. Ukraine has elicited a strong counteroffensive measure, bolstered by the aid from its Western allies.
Most recently, Ukraine requested F-16 fighter jets from its allies to aid its forces. The United States also announced it would send 31 M1A1 Abrams tanks to Ukraine, which are described by President Joe Biden as "the most capable tanks in the world". On Wednesday, Germany announced it would also send tanks to Ukraine, deciding on granting the country 14 Leopard 2 A6 tanks.
Newsweek reached out to Russian President Vladimir Putin's press office for comment.