Video: Ryan Reaves Blindsides Tom Wilson, Twitter Debates If It Was Deserved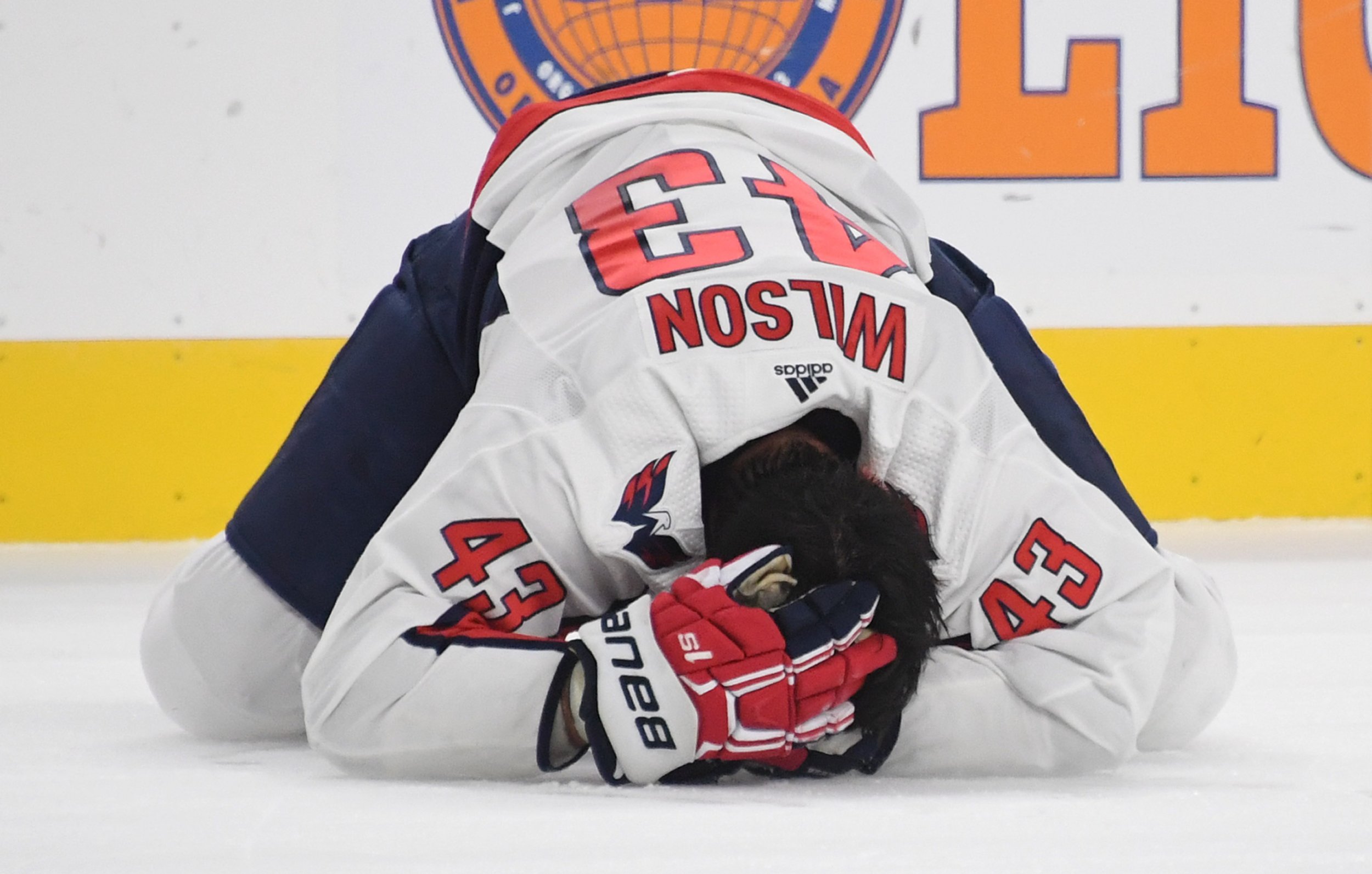 Tom Wilson has a reputation as one of the toughest players in the NHL but he was on the receiving end of a huge hit on Tuesday night.
The Washington Capitals winger, who picked up four suspensions since the beginning of the 2017-18 preseason, was nailed by a late hit from the Vegas Golden Knights' Ryan Reaves late in the second period.
Wilson had just played the puck ahead and was not facing Reaves, who ferociously blindsided him, causing Wilson's helmet to pop off as he landed face-first on the ice.
The 24-year-old did hobbled off to the locker room with the help of a trainer and did not return in the second period, before the Capitals ruled him out for the remainder of the game.
Reaves, meanwhile, was hit with a five-minute major for interference and was then ejected.
The duo have history stretching back to last season's Stanley Cup Final and they had already come together earlier in the game, when Reaves nailed Wilson with a clean check. The latter was clearly not impressed with the incident, particularly as his fellow Canadian appeared to laugh in his face after knocking him over.
Wilson had just returned to the Capitals' line-up after coming back from a 14-game suspension – whose length had already been reduced from the original 20 games by an arbitrator – for an illegal hit to the head he had been found guilty of in pre-season.
In the game against the New Jersey Devils last Friday he was ejected for a big hit but managed to avoid suspension.
Emotions ran high on social media after Reaves' second hit. Some pundits suggested Wilson could hardly complain after getting a taste of his own medicine, while others suggested Reaves' vicious hit was a gratuitous act of thuggery.
After the incident involving Wilson and Reaves, the Golden Knights ended up having the last laugh, beating the Capitals in their second meeting since last season's Stanley Cup, the first being a Capitals 5-2 victory in Washington on October 11. This time, however, a fourth-quarter blowout saw Vegas turn a 2-1 deficit into a 5-3 win thanks to a goal each from Pierre-Edouard Bellemare, Cody Eakin and two from Nate Schmidt.
The win saw the Golden Knights improve their record to 15-13-1 and move up to 31 points, joint-third in the Pacific Division alongside the San Jose Sharks. Vegas trails the division leaders Calgary Flames by five points and have the joint-best eighth record in the Western Conference.
The Capitals, meanwhile, remained top of the Metropolitan Division with 33 points, despite losing their second game in a row. Washington is 15-9-3 with the fourth record overall in the Eastern Conference.
Video: Ryan Reaves Blindsides Tom Wilson, Twitter Debates If It Was Deserved | Sports