Sacramento Police Tried to Run Over Man Before Shooting Him, Video Shows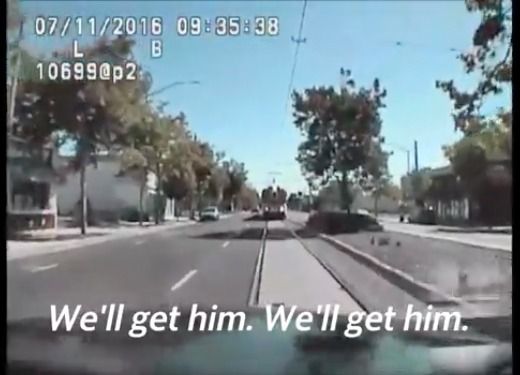 Shocking video published Friday shows two Sacramento police officers repeatedly attempt to hit a mentally ill homeless man with their cruiser before setting out on foot and fatally shooting him in the street.
"Fuck this guy. I'm going to hit him," one of the officers says. "Ok go for it. Go for it," his partner responds, in dashcam video with audio enhanced by the Sacramento Bee.
Joseph Mann, 51, was shot and killed by police on July 11 during a confrontation with Officers Randy Lozoya and John Tennis, who had responded to a report of a man with a knife and a gun acting erratically (A gun was never found). Mann is ordered to get on the ground after telling responding officers that he didn't have a gun, according to the Bee. He moved away from officers, yelled at them as they pursued him and threw a thermos at their cruiser, the Bee reports. The dashcam video shows the officers attempting twice to run Mann over. When that failed, one says "we'll get him, we'll get him," before leaving their cruiser. A heavy volley of bullets is heard seconds later, and they hit Mann 14 times on 18 shots in broad daylight.
"They are officers that shouldn't be in uniform," said Robert Mann, Joseph Mann's brother. "If this is their state of mind when they go to work, this doesn't serve anyone well."
Mann's family says he was acting erratically because he was experiencing a mental health episode, and police note that he had methamphetamine in his system. A lawsuit filed by the family says police should have recognized his obvious distress and tried to de-escalate the confrontation.
"Inexplicably, the Officers failed to contact any properly trained mental health counselors or make any attempt to use less than lethal force and ignored the established police protocols to make attempts to de-escalate the situation," the lawsuit says, according to the Washington Post.
Sacramento police spokesman Bryce Heinlein told the Post Lozoya and Tennis are on "modified duty."
Authorities refused to release video of the fatal shooting for two months, the Post reports. The dashcam video was released Sept. 20 but only after the Bee first acquired surveillance video of the shooting from a citizen. "Within an hour of the Bee posting the footage online, Sacramento police called a news conference to release video from three dashboard cameras as well as audio from two 911 calls and other information."