Video: Samantha Bee Piles Into Tucker Carlson—'Where Have I Heard Sweaty White Men Yelling About Being Replaced?'
Comedian Samantha Bee has lambasted Tucker Carlson, comparing the Fox News host to neo-Nazis at the 2017 Charlottesville rally.
The host of TBS's weekly show Full Frontal made the remarks in response to recordings of misogynistic and other controversial comments Carlson made to Bubba The Love Sponge Clem (real name Todd Alan Clem,) on WWBA Tampa between 2006 and 2011. The recordings were uncovered by Media Matters.
Full Frontal played a series of clips in which Carlson discussed demographic changes in the United States on his Fox News show Tucker Carlson Tonight. "Latin American countries are changing election outcomes here by forcing demographic change on this country," Carlson said in the footage.
"Their political success does not depend on good policies but on demographic replacement and they will do anything to make sure that it happens. I am just for Americans and no one cares about them. It's like shut up, you're dying we're going to replace you," he said.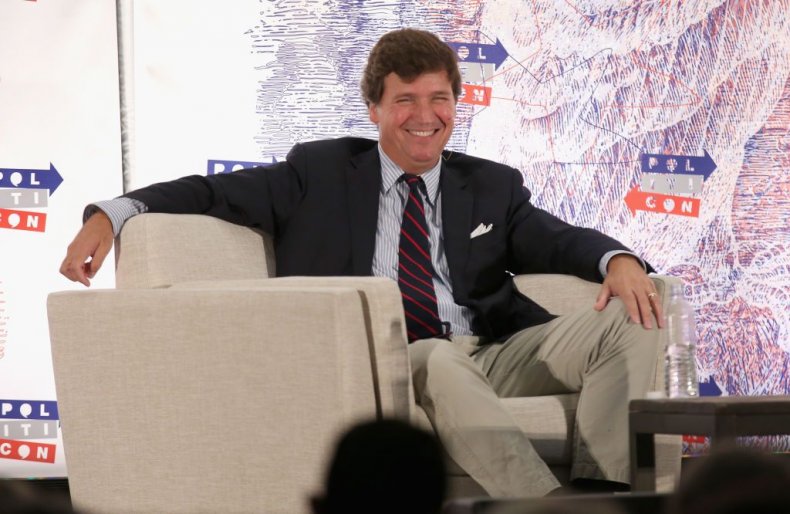 Bee said: "That's weird… where have I heard sweaty white men yelling about being replaced before?"
The satirical show then cut to a clip of white supremacists marching during the Charlottesville Unite The Right rally.
"So he's against white supremacy but uses the catchphrase of the Charlottesville mob?" Bee said.
Carlson has been heavily criticized for his comments to Bubba The Love Sponge. However, the Fox News anchor has refused to apologize over the remarks.
"Media Matters caught me saying something naughty on a radio show more than a decade ago," Carlson said in a blanket statement to the media.
"Rather than express the usual ritual contrition, how about this: I'm on television every weeknight live for an hour. If you want to know what I think, you can watch. Anyone who disagrees with my views is welcome to come on and explain why," said Carlson.
Bee responded to Carlson's statement referring to a March 2006 remark the Fox host made suggesting he would vote for the Democrats if they said they would kill Muslims. "Oh you naughty little bad boy, advocating genocide," the comedian said. "We have been watching you and we've discovered it's a revolting trash heap of racist talking points."