Senior GOP Senator Says Nancy Pelosi Doesn't Want to Use the Word 'Wall': 'Call It a "Wangdoodle" for All I Care'
Senator John Kennedy has said Speaker of the House Nancy Pelosi might be able to bring herself to agree to a deal for funding a border wall if the barrier was referred to by another name. The Republican senator for Louisiana said in a TV interview that the word wall actually distracted from other aspects of border security.
"Speaker Pelosi is an extraordinarily bright person. She knows that the walls we have right now are working, she knows that you can't secure a 1,900 mile border without using barriers. I think she probably doesn't want to use the word wall. That's okay, she can call it a 'wangdoodle' for all I care," Kennedy told CNN.
A bipartisan committee is trying to reach a deal over funding for President Donald Trump's long-promised wall along the southern border by February 15. Trump has threatened to declare a national emergency if he does not get the funding.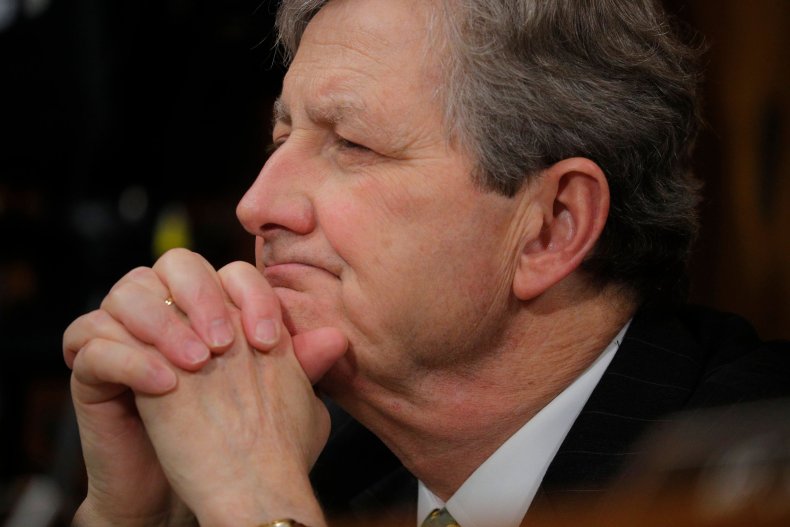 Kennedy said that Trump's rhetoric simply referred to a general description of border security. "The president's position has never been and nor has mine been…we're not talking about a wall from one end to the other. Walls are placed strategically, along with what the speaker talked about, better technology at ports of entry, more border control agents, more detention beds, drones. I mean, it is a combination of things but it does include a wall and I know that's hard for the speaker to say," Kennedy said.
Pelosi said on Thursday that Democrats may be open to new fencing and other barriers, even if they resolutely opposed extending the wall. "There's not going to be any wall money in the legislation," Pelosi said in the Capitol. "However, if they have some suggestions about certain localities where technology, some infrastructure…. That's part of the negotiation," she said, according to The Hill.
Representative Tom Graves, the Georgia Republican who is a member of the conference committee involved in negotiations, said key will be "discussions about terminology and words we use." Meanwhile Democratic Representative Henry Cuellar, who represents a Texas border district, suggested building vehicle barriers and levee walls along the Rio Grande River could be a compromise, saying, according to The Hill: "There's ways to get where we need to get."
However, Trump appeared to give short shrift to the semantic debate over what to call the barrier, tweeting on Thursday: "Lets just call them WALLS from now on and stop playing political games! A WALL is a WALL!"