Video: Seth Meyers Mocks Donald Trump at G20 Summit—'He Looks Like a Dad... on the Wrong End of a Seesaw'
Comedian Seth Meyers poked fun at President Donald Trump Monday over his "super awkward" interactions with world leaders at the G20 summit last weekend.
Speaking on Late Night with Seth Meyers, he said Trump always looks like "he just got kicked in the nuts."
Showing a picture of Trump on a G20 stage, Meyers commented: "The way he stands looks like a freeze frame from America's Funniest Home Videos. He looks like a dad who was standing on the wrong end of a seesaw."
The comedian then showed an altered version of the original picture, with a seesaw pasted between the president's legs.
Meyers then mocked other aspects of the president's interactions with other leaders. He showed an image of Trump failing to interact with other leaders after a group picture. "After the photo was done, Trump just sort of milled around by himself for a while," Meyers said. "He looks like he's at a house party and the only other person he knows is in the bathroom.
"Surprised he didn't do that move where you pretend to respond to texts, but in reality, you're just playing Words With Friends."
Meyers then pointed out Canadian Prime Minister Justin Trudeau's straight face as Donald Trump referred to them as "friends." "Look at his face. Absolutely nothing," the comedian said. "That face is the closest thing Canada has to a middle finger."
The footage was taken during the signing of a new trade deal between the U.S., Canada and Mexico. At the event, Trudeau called out Trump to his face for his tariffs on Canadian steel and aluminum.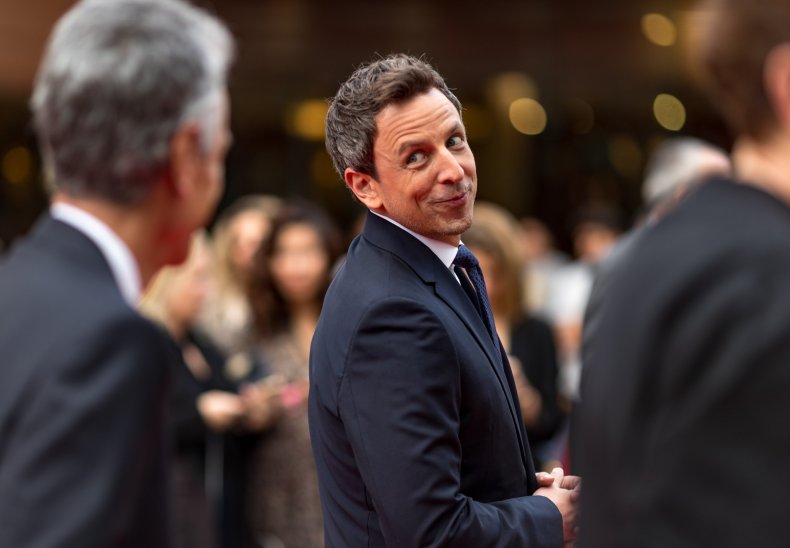 Meyers also showed a clip of the president walking off part-way through a photo opportunity with the president of Argentina—the summit's host country. "Watch as Trump walks away from the shoot early and is caught muttering off camera on a hot mic while the president of Argentina stands there awkwardly by himself," the comedian says.
Trump is then heard saying "Get me out of here."
"Why can't you stand still for like 10 seconds?" Meyers commented. "I've had better luck getting my dog to take a Christmas photo in her Santa hat."
The host then said the president was comfortable only around Russian President Vladimir Putin, with whom Trump canceled a meeting hours after his former attorney Michael Cohen pleaded guilty to lying to Congress about a Moscow property deal.
Meyers then showed footage of Trump giving a fractured explanation for the cancelation. "In light of what happened with Ukraine, with the ships and the sailors, it just wouldn't be the right time... We can't allow certain things to happen. And you know, it happened."
The comedian said Trump seemed to be talking about the recent "seizure of Ukrainian naval personnel by Russian forces." But, he surmised, Trump "has no idea what happened. All he knows is it had something to do with ships and sailors."