Video: Seth Meyers Mocks Trump's Anti-flipping Stance—If He Was Arrested, 'He'd Flip More Than a Dad at a Cookout'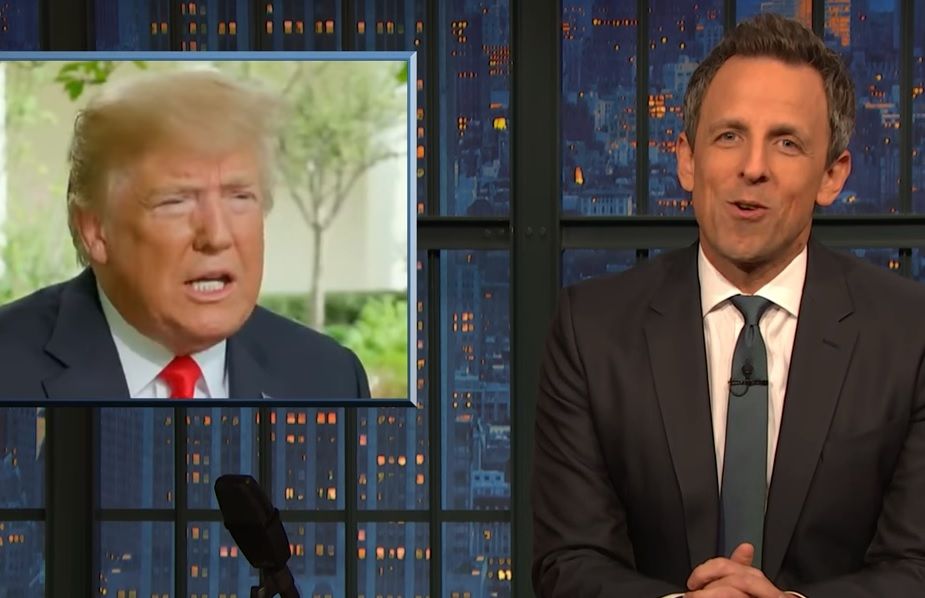 Seth Meyers has suggested President Donald Trump would quickly change his mind about so-called "flipping" if he was ever arrested or indicted.
In August, Trump gave an interview to Fox News suggesting that flipping—testifying against former confidants in order to get leniency in your own case—should be illegal, in the wake of his former attorney Michael Cohen testifying against him.
Read more: Seth Meyers takes shot at Mike Pence—He's 'just as slippery' as Trump but doesn't get the credit
"This whole thing about 'flipping' they call it. I know all about flipping," Trump said. "For 30, 40 years I've been watching flippers. Everything's wonderful and then they get 10 years in jail and they flip on whoever the next highest one is, or as high as you can go.
"And I've seen it many times, I've had many friends involved in this stuff, it's called flipping and it almost ought to be illegal," Trump added.
During the "A Closer Look" segment on the Late Show, Meyers suggested that Trump would perform a quick U-Turn and "flip more than a dad working a grill at a cookout" if he was ever arrested.
Meyers then shows a "scientific computer simulation" of what Trump would do if he was indicted, showing the president performing a number of backflips across the White House lawn.
"It was Don Jr, it was Eric, it was Ivanka, it was Melania, it was Tiffany, take Tiffany, you want Tiffany, you don't want me, you want Tiffany," Meyers said, impersonating Trump speaking to prosecutors.
The comment arrived while Myers was talking about the recent allegations Trump considers a pardon for former campaign chairman Paul Manafort not "off the table," in the hope it would stop him flipping in Special Counsel's Robert Mueller investigation.
Trump also heaped praise for his longtime political adviser Roger Stone, who is a potential witness in the Russia investigation, in what legal experts argued amounted to witness intimidation.
"'I will never testify against Trump'," the president tweeted on December 3. "This statement was recently made by Roger Stone, essentially stating that he will not be forced by a rogue and out of control prosecutor to make up lies and stories about 'President Trump.' Nice to know that some people still have 'guts!'"
George Conway, the husband of White House counselor Kellyanne Conway, replied to the tweet with "File under '18 U.S.C §§ 1503, 1512.'" in reference to constitutional statutes for obstruction of justice and witness tampering.