Watch: Police Officers Save Choking Baby's Life
Police in Ohio have released footage showing the moment two officers saved the life of a 2-month-old baby who was choking by the side of the road.
Shaker Heights Police officers Alex Oklander and Ryan Sidders found the baby after seeing Tamica Pruitte had stopped in the middle of the road with her hazard lights on.
"We pull up behind the car; we saw a female exit the car and frantically run to the passenger rear door and appear to be in some distress," Sidders told WJW-TV in Cleveland.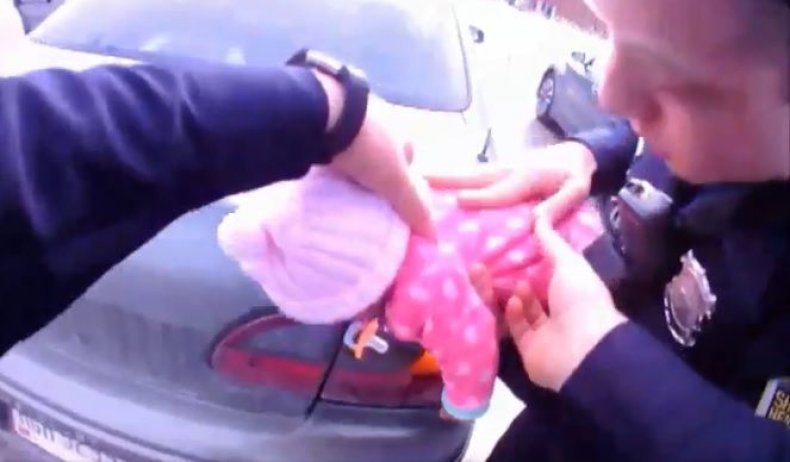 The officers saw infant Tyra in the back seat struggling to breathe. "The baby had what seemed to be milk coming out of her mouth and nose. That's when we administered the back thrusts," said Oklander added.
The pair proceeded to pat the girl on the back in order to free her air passages. After several attempts, the officers were relieved to discovery Tyra began breathing again.
Sidders said it was lucky that they happen to be just behind the mother's vehicle when they baby started to choke.
"We could have easily backed up another officer at a different side of the city and might have been there two, three minutes later and when someone is not breathing, two or three minutes is life or death," he said.
"Having kids, you never want that to happen to any person, let alone a child, especially a baby that is two months old," said Oklander.
Tyra was born prematurely and has lung problems which make her prone to choking, reports WKYC-TV.
Pruitt said the fact the officers were in the right place at the right time was "God watching over mine."
"I watched it, and I was like, 'Wow they really helped me out there,'" she added.
The Shaker Heights Police Department posted the dramatic footage to its Facebook page, where it has been viewed tens of thousands of times.
"Officer Oklander never expected that stopping to help a disabled motorist would require a lifesaving effort," the force wrote. "He and Officer Sidders soon learned Tamica Pruitte's two-month-old child, Tyra, was choking and not breathing. Way to go officers!"