Video Shows Containers Piled up As Far As the Eye Can See As Supply Chain Crisis Deepens
A video showing a backlog of undelivered shipping containers at a port has highlighted the extent of the supply chain crisis gripping the U.S.
The supply chain crisis has been triggered by a combination factors stemming from the coronavirus pandemic, with a surge in demand straining manufacturing capacity as global shipping and logistics companies struggle to recover from previous distruptions, all exacerbated by worker shortages.
In the video, Stanimal18, described as working in "crane operations" on his TikTok profile, pans his smartphone from left to right to document the quantity of shipping containers stacked and awaiting distribution on the quayside. The video can be viewed here.
The clip, already viewed more than 3.6 million times on the social media site since the video was uploaded on October 13, also hears him complaining about the status quo.
In the 30-second clip, Stanimal18, who has 12 other videos documenting the shipping container industry, says: "One of the reasons everything is backed up is our f***ing container yards are stuffed to the hilt with containers."
The video pans from the containers to vehicles travelling far below: "We need truck drivers to pick up our goods, and truck drivers for us, are all robots. This is an automated, terminal, pretty much."
The video appears to be filmed from one of the container yards at the ports of Los Angeles and Long Beach.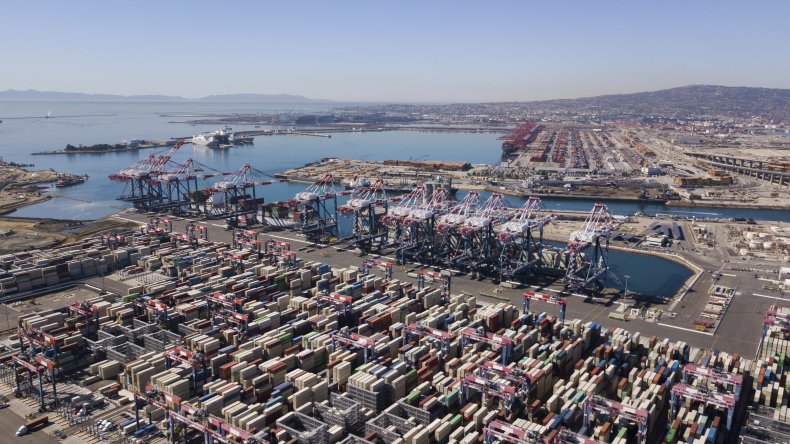 The video appears to be filmed from one of the container yards at the ports of Los Angeles and Long Beach. The clip coincides with Los Angeles Port Executive Director Gene Seroka's announcement in an online press conference on October 14.
He said: "The cargo surge we have experienced for more than a year continues. September volume at the port of Los Angeles landed just shy of 900,000 TEU's (20ft Equivalent Unit).
"That's the best September in the Port's 140-year history, edging out last year's mark by a little shy of two percent. The surge continues to be driven by the American consumer, which is good news for our economy."
It comes as President Joe Biden warned companies on Wednesday he will "call them out" if they fail to "step up" to address supply chain issues ahead of the holiday season.
Biden announced the Port of Los Angeles would start working around the clock to tackle the supply chain crisis. The President added private companies including Walmart, FedEx and UPS would also start operating day and night to distribute goods.
He also spoke about the importance of passing infrastructure legislation to pay for improvements to the supply chain saying "the world has changed," and stressed the need to compete in a 21st century economy."
He said: "I know you're hearing a lot about something called supply chains and how hard it is to get a range of things from a toaster to sneakers to bicycles to bedroom furniture. With the holidays coming up, you might be wondering if the gifts you plan to buy will arrive on time."
"Los Angeles and Long Beach are home to two of the largest...ports in America. And together, these ports are among the largest in the world. And the best way to make that point is that 40 percent - 40 percent of shipping containers that we import into this country come through these two ports.
"And today, we have some good news: They're going to help speed up the delivery of goods all across America. After weeks of negotiation and working with my team and with the major union and retailers and freight movers, the Ports of Los Angeles announced today that it's going to begin operating 24 hours a day, seven days a week.
"If federal support is needed, I will direct all appropriate action. Now, if the private sector doesn't step up, we're going to call them out and ask them to act because our goal is not only to get through this immediate bottleneck but to address the longstanding weaknesses in our transportation supply chain that this pandemic has exposed."
Chris Bowden, Managing Director of business-to-business clean energy marketplace Squeaky, suggests supply chain issues illustrate "just how delicate the supply chains of our world are."
He told Newsweek: "Our world's supply chains are finely tuned to meet the highest levels of efficiency possible, which means one or two hiccups can cause nationwide challenges. Rarely do perfect conditions exist in the real world, which means a system with no slack, back-up or spare capacity is likely to flounder under pressure."
Veena Giridhar Gopal, founder of consumer analysis company salesBeat, described the problem as a "perfect storm" affecting supply and demand. She told Newsweek: "The current supply chain crisis is the perfect storm of changes in consumption combined with logistics and raw material constraints.
"Demand for certain products (cooking ingredients, cleaning products, breakfast products etc) has skyrocketed due to people spending more time at home. At the same time, companies did not plan for this surge in demand as they believed demand would go back to pre-pandemic levels."