Video: Shocking Footage Shows Cop Ripping 1-year-old Child Out of Mother's Arms at Social Services Office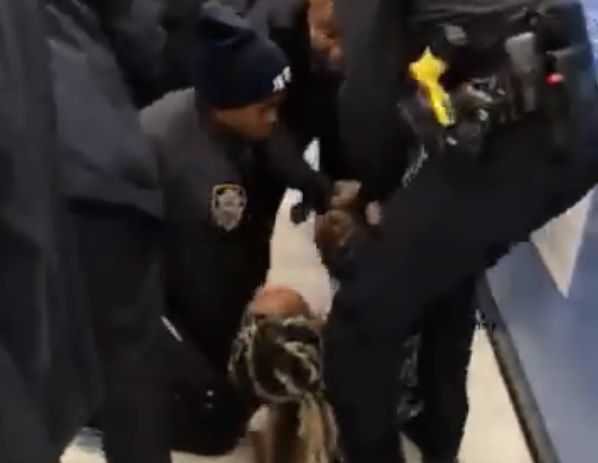 Police have launched an investigation into a "troubling" video that shows several New York police officers attempting to pull a 1-year-old baby from the arms of his mother on the floor of a social services office in Brooklyn, New York.
The clip, which was posted on Facebook, shows 23-year-old Jazmine Headley repeatedly yelling "they're hurting my son!" as she desperately held on to her baby on the floor of the Supplemental Nutrition Assistance Program (SNAP) office on December 7.
Read more: NYPD officers accused of planting marijuana in black teenager's BMW
Officers were called to the food stamp office as Headley was allegedly engaging in "disorderly conduct toward other people," reported CBS New York. After repeatedly asking the mother to leave, an altercation took place between Headley and at least four New York Police Department officers.
The officers can be seen attempting to grab the baby boy from Headley so she could be restrained.
One officer could be seen brandishing a stun gun in an attempt to control the crowds, which had gathered around Headley and her child as they sat on the floor.
The woman who uploaded the clip, Monae Sinclair, said an argument had broken out between Headley and a security guard because she wanted to sit on the floor, as there weren't any seats for her in the office.
"The security guard felt dumb so she called the cops on her and this was the outcome," Sinclair wrote in a caption while posting the clip on Facebook. "Mind you she had her baby in her hands the whole time.
"I'm so f****** disgusted with the NYPD," Sinclair said. "I'm a mother myself and I would've lost my f****** mind if this was me. They would've had to kill me."
The video has been viewed 200,000 times as of early Monday morning.
Corey Johnson, New York's City Council speaker, described what he saw in the video as "unacceptable, appalling and heartbreaking. I'd like to understand what transpired and how these officers or the NYPD justifies this. It's hard to watch this video," he tweeted.
Public Advocate and Attorney General-elect Letitia James said, "No mother should have to experience the trauma and humiliation we all witnessed in this video."
A New York Police Department spokeswoman said, according to New York Daily News, "Video images of the incident in the 84th precinct are troubling, and the event is under review by the NYPD and HRA [Human Resources Administration] Police. This review will include examination of all available video of the incident."
Headley was later arrested on suspicion of resisting arrest, acting in a manner that was injurious to a child, obstructing governmental administration and trespassing. The 1-year-old boy is currently in the care of a family member, police said.
Warning: Video contains strong language.