Video of Shohei Ohtani Speaking Only English Resurfaces After Stephen A. Smith Comments
It only took a couple of hours for a video of Shohei Ohtani speaking English to resurface after ESPN host Stephen A. Smith said the baseball star is a "dude that needs an interpreter" who shouldn't be the face of baseball.
Ohtani's feats are good enough to make him the face of baseball. He is already compared to Babe Ruth for his moonshot home runs and prowess as a pitcher. Ohtani, who plays for the Los Angeles Angels, is the No. 1 seed in Monday night's Home Run Derby, he'll be the American League starting pitcher in Tuesday night's All-Star Game and he'll also be his team's designated hitter in the game.
Ohtani has become the best player on a team that has Mike Trout. Many have already begun calling the Japanese player "the face of baseball."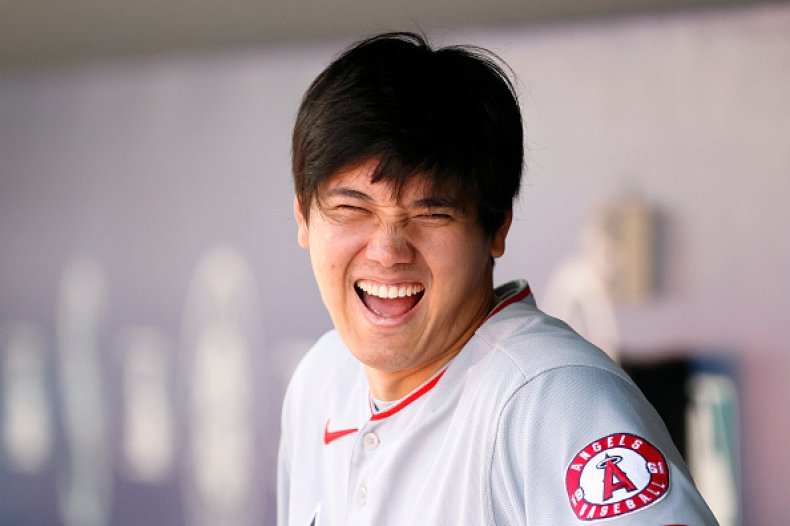 Ohtani leads Major League Baseball this season with 33 home runs, a .698 slugging percentage and 210 total bases. His four triples lead the American League. On the mound, he has a 4-1 record with 87 strikeouts in 67 innings pitched, and a 3.49 earned-run average in 13 starts.
Monday morning on the ESPN show First Take, in which he co-hosts with Max Kellerman, Smith said people won't pay money to go to the ballparks to watch Ohtani play.
"I understand that baseball is an international sport itself in terms of participation," Smith said. "But when you talk about an audience, gravitating to the tube, or to the ballpark, I don't think it helps that the number one face, is a dude that needs an interpreter so you can understand what the hell he's saying, in this country!"
Smith later issued a video statement through his Twitter trying to justify his statement about Ohtani. Meanwhile, a video resurfaced of Ohtani accepting his 2018 American League Rookie of the Year. Ohtani spoke entirely in English during his acceptance.
"Thank you. First off, I want to say what an honor it is to share this stage with all many great players," Ohtani said. "Congratulations to you all."
Ohtani's two-minute speech, completely in English, was at an event hosted by the Baseball Writers Association of American (BBWAA) in January 2019 to recognize achievements from the 2018 season.
Ohtani thanked the BBWAA for hosting, and the writers who voted for him. He thanked the Angels organization, and the entire staff for "making me feel comfortable." He did it all without an interpreter.
Smith went to Twitter on Monday afternoon to try and explain his earlier comments, which he said were misinterpreted.
"My segment on Ohtani this morning on First Take, people are misinterpreting what I'm saying. I'm not talking about the state of the game," Smith said.
He said baseball should market its players better to cater to a "significantly older" crowd of fans than basketball and football.
"I'm talking about the marketability and the promotion of the sport...if you are a sport trying to ingratiate yourself with the American public the way Major League Baseball is because of the problems you've been having to deal with, in terms of improving the attractiveness of the sport, it helps if you spoke the English language," Smith continued. "It doesn't mean anything more than that. Baseball is a great game but baseball's audience is significantly older than the NBA, the NFL audience, etc., etc., nothing more. That's what I was talking about. Nothing more...We know it's an international sport, we know that that's great and baseball having the global appeal that it is, fine. But in the United States, all I was saying is that when you're a superstar, if you can speak the English language then guess what? That's gonna make it that much easier and less challenging to promote the sport."
"Amazing that folks still don't know me after all these years. If I am wrong about something, I will apologize. Especially if I unintentionally offend ANY GROUP of people — because it's the right thing to do. Period! I'm BLACK. I would know! See y'all tomorrow on @FirstTake," Smith wrote in yet another tweet.