Baseball Shooting Video in North Charleston Shows Players Flee Gunfire
A video showing children at a Dixie Youth League baseball game in South Carolina reacting to hearing gunshots during their game has gone viral.
The shooting is believed to have taken place on Monday at Pepperhill Park in North Charleston at around 8:45 p.m. according to an ABC4 News report.
The video has been viewed over 5 million times and ABC News 4 shared the video to its Twitter page on Tuesday.
"Breaking: Dozens of gunshots send children scrambling for cover during a [Dixie youth league] baseball game in N.Charleston," the caption read.
In the video, multiple loud gunshots can be heard before a pitch is thrown.
The batsman and catcher can then be seen running out of view as the shots continue. Some of the children in the field then sit or lie down.
In the crowd, some spectators can also be seen scrambling out of the bleachers while others lie flat on the floor. As well as the shots ringing out, adults can be heard shouting instructions to the children on the field to ensure they are as safe as possible during the shooting.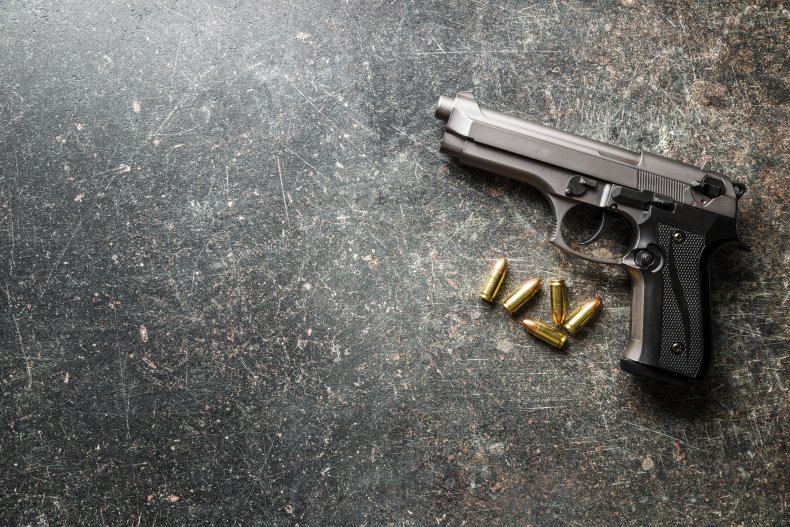 The North Charleston Mayor Keith Summey held a press conference at Pepperhill Park the following day to address the shooting.
"The people who were out here shooting at each other were not here to watch a ball game," he said.
"They came into a secluded area to carry out a fight that started somewhere else and ended up shooting at each other.
"It destroyed the hearts of a lot of people, mothers, fathers, children out here participating in sport within our city.
"We will not tolerate this behavior and we will not allow this behavior to carry forward."
The mayor went on to say that there is a $10,000 reward for the arrest of anyone involved in the shooting. He clarified that this reward was not for the conviction of someone involved in the shooting but the arrest.
He added that the police department would be continuing to work to get guns off the streets. North Charleston Police Department said no one was injured in the volley of shots.
Members of the local community and the North Charleston Police Department held a peace march on April 21 in an effort to reduce violent crime, according to a separate ABC4 news report.
The event saw police and prominent members of the community meeting and talking with one another about the changes they want to see in the area. This included the faith-based group R.E.C.A.P (Rebuilding Every Community Around Peace).
Newsweek has contacted the North Charlston Police Department for comment.
Update 1/26/22, 11:10 a.m. EDT: This article has been updated to include comment from North Charleston Mayor Keith Summey.