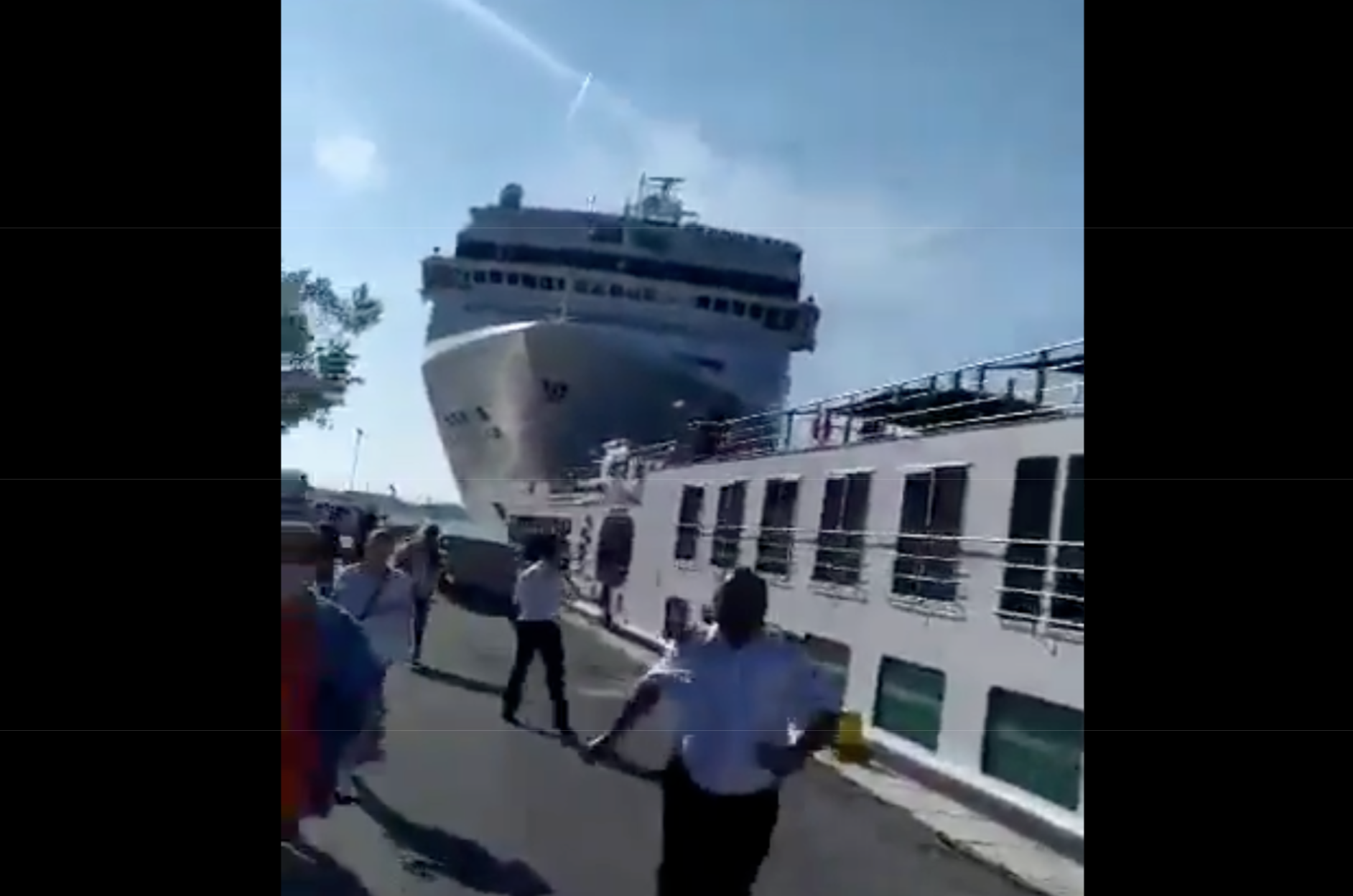 A massive cruise ship careened out of control and smashed into a dock and a tourist boat in Venice, Italy, Sunday morning, sending herds of tourists fleeing the scene and reinvigorating an ongoing debate about allowing cruise ships to dock in the northeastern Italian city.
The crash happened just before 9 a.m. local time Sunday. The ship, the MSC Opera owned by MSC Cruises, had been preparing to dock at a terminal in the Giudecca Canal, a major hub that leads to the popular Saint Mark's Square. Four people aboard the River Countess tourist boat were injured and taken to the hospital for check-ups, according to the Associated Press.
Videos of the crash posted to social media show the ship looming over the dock, blasting its horn as a flock of tourists scurry away. Apparently unable to slow down or straighten out, the Opera then sideswipes the dock and smashes into a smaller tourist boat before coming to a halt.
According to Al Jazeera, the ship suffered from engine failure. Two tugboats had been attempting to guide the ship into the wharf, but one of the chains linking them to the ship broke off under the tremendous weight of the ship.
Hours after the crash, Italian officials called to ban cruise ships from entering the dock, adding to a growing chorus of local leaders attempting to protect the historical city from deterioration caused, in part, by giant ships.
Last summer, the Italian government announced plans to ban cruise ships weighing between 55,000 to 96,000 tonnes from entering into the Venetian lagoon by 2022 after a United Nations report stated that the vessels were causing "irreversible changes" to the Venice ecosystem.
At the time, the United Nations threatened to place Venice on its list of endangered heritage sites. The ships have also been criticized for causing a visual disturbance to the picturesque and world-famous city.
"Today's accident in the port of Venice proves that cruise ships shouldn't be allowed to pass down the Giudecca anymore," Danilo Toninelli, the Italian transport minister, said Sunday in an Associated Press report.
He continued: "After many years of inertia, we are finally close to a solution to protect both the lagoon and tourism."
The 13-deck cruise ship can carry upwards of 2,500 guests and includes a theater and a water park. MSC Cruises, which is headquartered in Geneva, said it was cooperating with authorities. According to the company website, the ship traveled to Kotor in Montenegro and the Greek islands of Mykonos, Santorini and Corfu before heading to Venice.
The Opera, built in 2004, suffered mechanical failure in 2011 during a Baltic cruise.