Video Shows 10-Year-Old Narrowly Escaping Carjacking in Houston
A new video shows a 10-year-old girl narrowly escaping a carjacking incident in Houston, Texas.
The video, which was posted to Twitter by the Houston Police Department's Robbery Division, begins by showing a white GMC Yukon pulling into a convenience store parking lot located at the 8700 block of Beechnut Street. The Yukon parks in a spot directly next to a black truck.
As the video continues, one individual can be seen exiting the driver-side door of the white Yukon and walking toward the convenience store, while another individual exits from the back door and walks around the car.
One of the individuals then walks toward the black truck parked adjacently and opens the driver-side door, entering the vehicle. After the individual enters the truck, the back door opens and the 10-year-old girl sprints toward the entrance of the convenience store.
According to the Houston Police Department's Robbery Division, the incident occurred on September 5 at around 10:30 p.m. local time.
In a press release, police said that after arriving at the convenience store, the "complainant and his wife" exited their black vehicle "and left it running while their 10-year-old daughter remained in the backseat."
After the suspect entered the complainant's black vehicle, he noticed the 10-year-old girl in the back seat. The suspect "threatened to harm her if she did not get out," police said in the press release.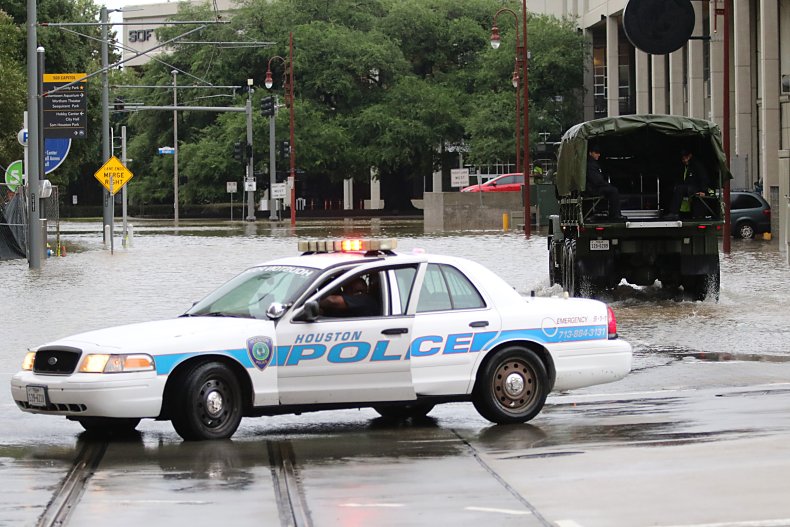 After the 10-year-old girl is seen narrowly escaping the vehicle, the video shows the suspect driving away in the truck. The other suspect gets back into the white Yukon and follows the stolen vehicle out of the parking lot. As the video ends, the owners of the stolen vehicle are seen running out of the convenience store in an attempt to flag down the suspect in their car.
According to police, the stolen vehicle was found, unoccupied, on September 11 in West Harris County.
Police said they released the video in hopes that the public could help in identifying the two suspects. The suspect who stole the black vehicle was described as a Hispanic male between the ages of 25 and 30, weighing around 230 to 260 pounds, and was last seen wearing a black shirt and jeans. The other suspect, who followed in the white Yukon, was also described as a Hispanic male between the ages of 25 and 30. He was last seen wearing a "light-colored shirt" and black pants.
The white Yukon has "damage to front right headlight and quarter panel," police noted.
Newsweek reached out to the Houston Police Department's Robbery Division for further comment but did not receive a response in time for publication.