Video Shows Alex Jones Saying He's 'Sick' of Donald Trump and Wishes He Never Met Him
Infowars host Alex Jones can be heard saying that he is "sick" of former President Donald Trump in a newly unearthed video.
Jones made the remarks while filming an interview for the documentary You Can't Watch This in January 2019. In an expletive-filled outtake leaked by the Southern Poverty Law Center (SPLC) on Tuesday, the far-right conspiracy theorist insisted that he would have preferred to have never met the former president, despite heavily promoting Trump to his audience for more than five years.
"It's the truth and I'm just going to say it, that I wish I never would have f***ing met Trump," Jones said. "I wish it never would have happened. And it's not the attacks I've been through. It's I'm so sick of f***ing Donald Trump, man. God, I'm f***ing sick of him. And I'm not doing this because, like, I'm kissing his f***ing ass, you know. It's, like, I'm sick of it."
A spokesperson for Trump declined to comment to Newsweek when asked about the video. Infowars had not responded to a request for comment at the time of publication.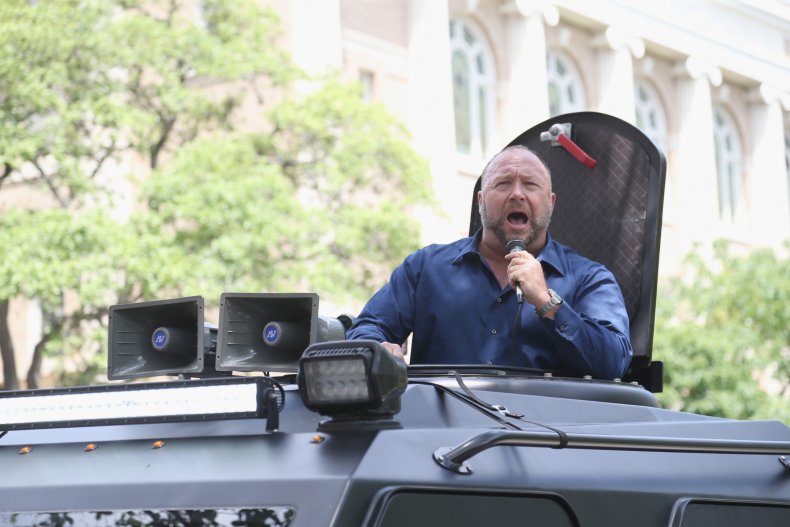 While the video suggests that Jones may have privately tired of Trump, he has publicly remained one of the former president's most ardent supporters. Jones participated in multiple "Stop the Steal" rallies following Trump's election loss to President Joe Biden, including a January 6 rally in Washington, D.C. that immediately preceded the deadly breach of the U.S. Capitol.
The leaked footage was recorded by filmmaker Caolan Robertson, who told SPLC that Jones "doesn't care about most of the stuff he professes to." Jones has rarely strayed from praising Trump since the former reality television star became a political figure. Trump himself took part in a December 2015 Infowars interview with Jones, with the then-candidate telling the host that "your reputation is amazing" while vowing to "not let you down."
In January, a video showing Jones denouncing the false pro-Trump QAnon conspiracy theory while speaking to a supporter of the theory on Infowars went viral, gathering millions of views. Jones had previously used his platform to boost QAnon and similar debunked conspiracies like Pizzagate.
"Every God damn thing out of you people's mouths doesn't come true," Jones said. "It's always 'Oh, there's energy,' 'Oh, now we're done with Trump.' You said he was the messiah! You said he was invincible! You said that it was all over. That they were going to Gitmo and now that he's part of a larger thing of Q."
"I will not suffer you Q people after this," he added. "I knew what you were day one and I know what you are now and I'm sick of it. I'm sick of all these witches and warlocks and pumpkin popsomes and everything. Oh God. Bye-bye Q, I can't talk to you anymore. Jesus, lord help me."