Video Shows 9-Foot Alligators Brawling in Florida Backyard Ahead of Mating Season
Two alligators have been caught on film wrestling in a backyard in Lakewood Ranch, Florida.
The reptiles become more active when temperatures rise, and with alligator mating season approaching, encounters between humans and gators are likely to increase in frequency over the coming weeks in the Sunshine State.
The footage was captured by nature photographer and Lakewood Ranch resident Gordon Silver, and posted online Monday.
"Not sure if they were fighting for territory or not, but I did hear the mating call prior to this happening," Silver told Newsweek.
"They appear to be 8 to 9 footers. I am a nature photographer and always have my camera by my side. I live in a development that has an abundance of wildlife, so you don't have to travel far to get some great captures."
The video shows two alligators slowly approach each other on a shoreline.
Deep growls can be heard as the animals get closer, before they clamp their jaws on each other's bodies and roll into the water, tails thrashing.
The smaller of the two alligators then manages to escape, disappearing under the murky water.
Alligators become more active around this time of year.
"When temperatures rise, alligators' metabolism increases and they begin moving around more as they seek food," the Florida Fish and Wildlife Conservation Commission (FWC) explains.
Alligators also start courting in early April, ahead of the mating season in May and June.
Increased alligator activity raises the potential for conflict between the reptiles and humans, but FWC says they "seldom bite people and fatalities from such occurrences are rare," despite there being an estimated 1.3 million alligators in Florida.
In 2020 there were 12 recorded alligator bites on people in the state, with eight of those causing wounds that "required medical care, beyond first aid." None of them were fatal.
Between 1948 and 2019, meanwhile, 413 unprovoked bite incidents were recorded in Florida, with 25 of them resulting in fatalities.
"The frequency of these serious bites is variable but there has not been a significant trend in the past 10 years," an FWC fact sheet published in 2019 reads.
"The likelihood of a Florida resident being seriously injured during an unprovoked alligator incident in Florida is roughly only one in 3.1 million."
The FWC's safety recommendations include taking extra precautions near water. It advises keeping children and pets a safe distance from water, and swimming only in designated swimming areas during daylight hours.
Feeding wild alligators is also illegal, because it can cause them to start associating people with food.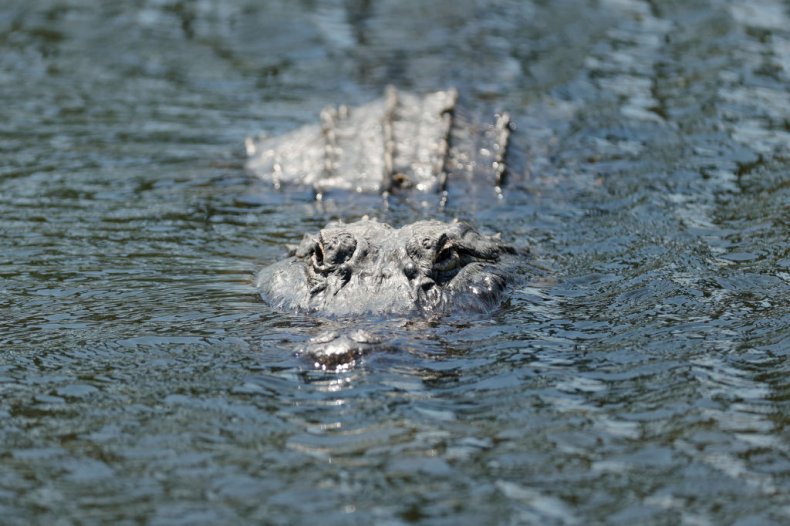 Update 4/6/21, 9:26 a.m. ET: This article was updated to include quotes from Silver.