Video Shows Anti-Mask Mom Screaming Homophobic Slurs as Police Arrest Her
A 33-year-old mother and school board member who has opposed school mask mandates was caught on video screaming homophobic slurs at a police officer while he arrested her.
On July 25, police in Weare, New Hampshire pulled over a vehicle being driven by Samuel Kelley. They issued him two citations for allegedly having an expired inspection sticker and state registration.
Police said they recognized the vehicle from four days earlier when they issued Kelley's wife, Rochelle Kelley, a citation for "failing to obey inspection requirements." Officers also gave her a warning about the vehicle's expired registration, the police department said.
Because the inspection and registration hadn't been updated, officers called for the vehicle to be towed. Officers then began inspecting the vehicle to take an inventory of its items.
At this point, police said, Samuel Kelley's wife Rochelle Kelley interfered. Her interference led police to arrest her. As officers began to handcuff her, her husband began recording video of the arrest on his cell phone camera.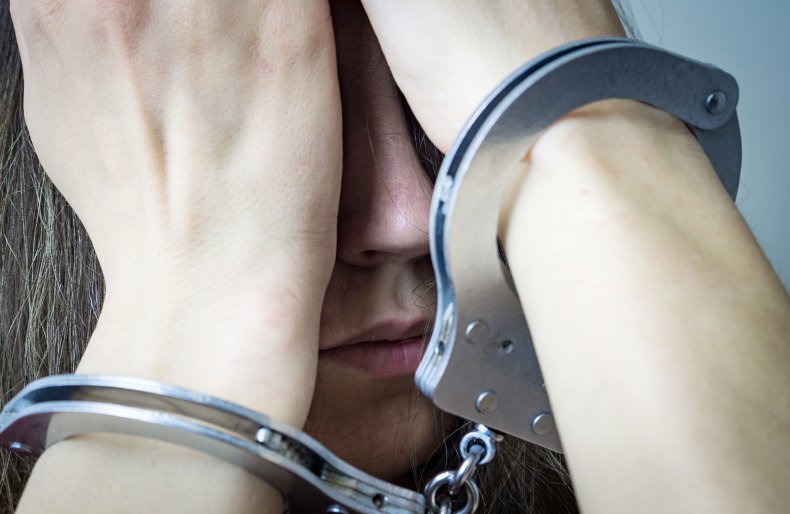 The video begins with the jangling of handcuffs and an officer saying, "You're under arrest."
She screams, "For what?" before commanding her husband, "Record this!"
"For what?" she repeats.
"Interfering," the officer says as he turns her body around to handcuff her hands behind her back. She continues screaming as the officer calmly explains, "You're under arrest."
She then screams, "F*** you, you f*****. Eat shit, you c********** dick."
Her husband tells the officers, "We did not give you legal permission to go into my vehicle. Do you have a warrant to be in my vehicle?"
Then, she screams about the handcuffs. "You are f***ing cutting my arm. Loosen it! I've been trying to get it off because it hurts! Loosen it!"
As the officer starts attempting to loosen the handcuffs, he says, "Calm down, take a breath."
She responds, "F*** you."
Her husband tells the officer, "It's hard to calm down when someone is physically overtaking you because you didn't have a warrant."
The officer tells her, "We're trying to loosen it."
She says, "I'm calming down. Now loosen it because you're literally cutting my f***ing arm."
The woman then calls the officers "f***ing pieces of shit," adding, "I'm making sure that this can be seen on video so that my husband can see how f***ing tight it is for when we sue the shit out of you."
Rochelle Kelley is a member of the Weare School Board. During a late April board meeting, she proposed that the local school district's mask mandate for students should be optional.
"I think having a recommendation for masks would be the best thing, and then giving families the option to not wear a mask," she said, according to the Concord Monitor. "We recommend the masks, then if they choose not to wear a mask for whatever reason, then they don't."
Rochelle Kelley's arraignment for the arrest is scheduled for August 26. However, before that court date, she has another court date connected to her May 1, 2020 arrest.
During that arrest, police charged her with misdemeanor counts of criminal mischief and disorderly conduct when she allegedly refused to leave the Rollins Park playground in Concord, New Hampshire. She said that she "noticed caution tape around the playground but did not see that as a prohibition from playing there," WMUR reported.
When a police officer commanded her and two other adults to leave the playground, they refused. They said they had a constitutional right to use the playground even though the government had declared a state of emergency.
Newsweek contacted the Weare Police Department for comment.