Video Shows Arizona Police Helicopter Rescuing People Surrounded by Floodwaters Atop Truck
Police in Maricopa County, Arizona, shared a video of a dramatic helicopter rescue on Friday after a vehicle became stranded on a flooded road following several days of heavy storms and rainfall.
According to the Maricopa County Sheriff's Office, two individuals became trapped in a wash in the community of New River after they attempted to drive through a flooded roadway in their mobile home.
In the video, a police helicopter unit can be seen reaching down to grab the two people as they sat stranded atop the vehicle.
"We are here to provide #safety to our community but please be mindful of the dangers posed by moving water and entering flooded areas. Here's a video of our MCSO aviation unit rescuing a driver after his vehicle got stuck in a wash," police tweeted Friday.
Prior to the aviation rescue, first responders at the Daisy Mountain Fire Department attempted to save the stranded individuals via a ground rescue but were unsuccessful due to multiple high water crossings.
Officials feared that the mobile home was going to flip over amid reports that water was coming through the windows, but the sheriff's office was able to perform the rescue without either individual suffering injuries.
However, two family dogs were lost in the floodwaters, according to the Daisy Mountain Fire Department.
The rescue came after days of heavy storms and rain across the Phoenix area. On Saturday, the National Weather Service (NWS) of Phoenix tweeted that there is a "slight to moderate risk of excessive rain" across much of south-central Arizona throughout the weekend.
The weather service has issued a flood advisory for some areas and said that so far, at least 65 percent of Phoenix has seen rain on Saturday morning. The amount of rainfall recorded over the past few days has put July 2021 on the list of the top 20 wettest July's on record in Phoenix.
The Maricopa County Sheriff's Office said Friday that they have received several non-emergency calls due to the extreme weather conditions.
"We ask that you please stay home, avoid dangerous roads, and wait until weather conditions improve," police said in a statement on Twitter Friday. And in a separate tweet, the sheriff's office added "do not attempt to enter flooded areas even though you think your vehicle can handle it. Chances are it may not."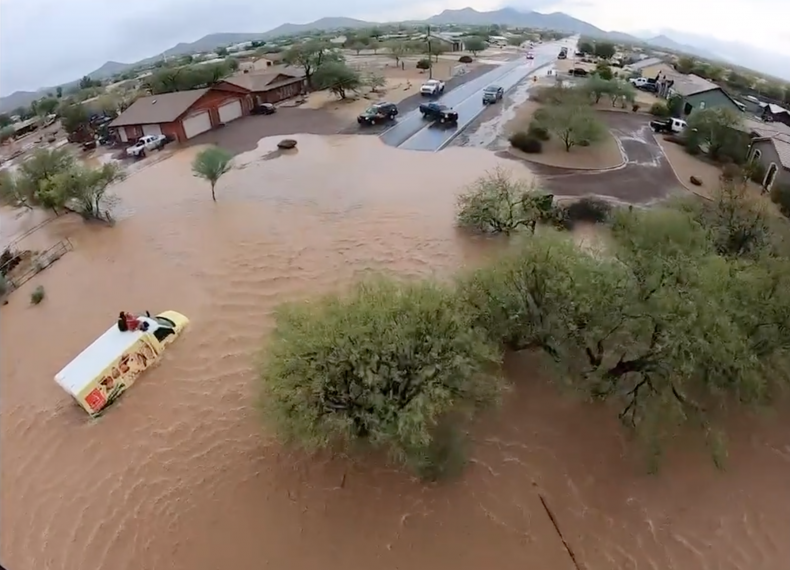 The NWS recommended that drivers turn around when encountering flooded roads, since most flood-related incidents occur with vehicles.
"We already saw a few people drive into water & have to be rescued yesterday - we don't want to see you on the news today," the weather service tweeted.
Newsweek contacted the Maricopa County Sheriff's Office for additional comment, but did not hear back in time for publication.