Video Shows Asian Police Officer Violently Attacked in San Francisco
Video from surveillance cameras shows a man violently attacking an Asian female police officer in San Francisco's Chinatown Friday night.
The attacker, who has since been identified as Geraldo Contreras, had allegedly been standing on the street corner near Clay and Kearny Streets just before 7 p.m. on Friday. Witnesses reportedly saw him vandalizing rental scooters and shouting threats at passersby. One witness reported hearing Contreras yell "Chinese people don't belong here." The officer who arrived on the scene was responding to calls of a drunk and disheveled man making threats.
The surveillance video shows the Asian police officer approach Contreras, telling him to "Stop right there," and to "turn around, all the way around," and to put his hands on top of his head. As he complied with these orders, she approached him from behind and asked him if he had any weapons.
He kept repeating "I don't have no weapons," and tried to turn around, with his hands down. When the officer told him to turn around and put his hands back up, he attacked her, grabbing for her face and arms.
From there, much of the verbal exchange is inaudible. The officer fought back defensively and tried to contain him. However, she was not able to grab the bean bag gun attached to her back now could she overpower Contreras, who wrestled her to the ground and laid on top of her, appearing to choke her. At one point she appears to call for backup on her radio.
Several passersby came to help the officer, and tried to pull Contreras away, shouting "Get off of her!" It took more than a minute for several additional police officers to arrive and pin him to the ground.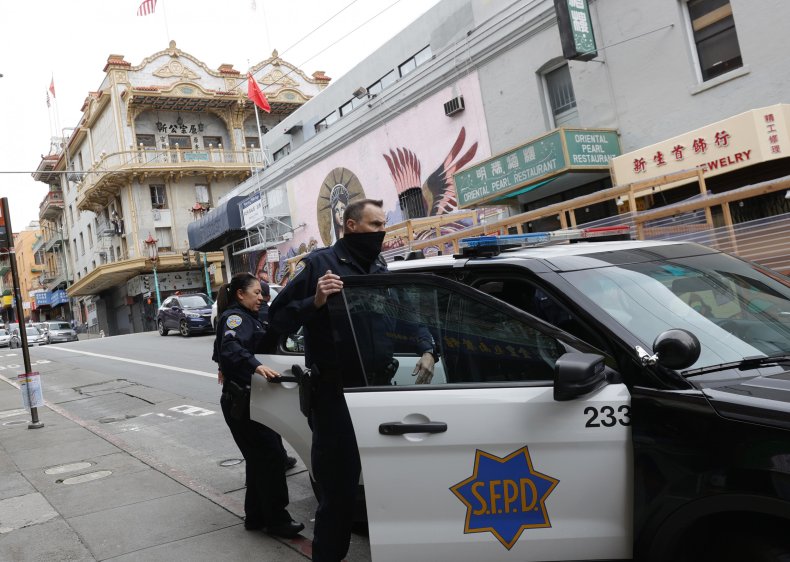 "He's a big guy, he was not letting go. He had a death grip on her. And he was not letting go," Michael Waldorf, one of the men who tried to intervene, told ABC7 News. "I saw it as an emergency. She needed our help and she needed it right away."
Another witness alleged he had been there making anti-Asian threats on Thursday as well, at one point saying he "specializes in killing Asian people."
"He's been kind of a fixture here in San Francisco Chinatown," Max Leong, a community activist in the neighborhood told KTVU. "It speaks to the fact more services need to be provided for the mentally ill."
Contreras has a record of prior arrests, including aggravated assault, elder abuse and assaults on officers in other parts of California. Contreras is now in custody and San Francisco police are investigating the attack as a possible hate crime.
The officer sustained only minor injuries, including a bloody nose. "[She] is banged up, a little bit sore, but we are very grateful that she was released from the hospital," said Tony Montoya, President of the San Francisco Police Officers Association.
Newsweek has reached out to the San Francisco Police Department for comment.