Video Shows Brain Surgery While Patient Is Awake As Doctors Remove Deadly Tumor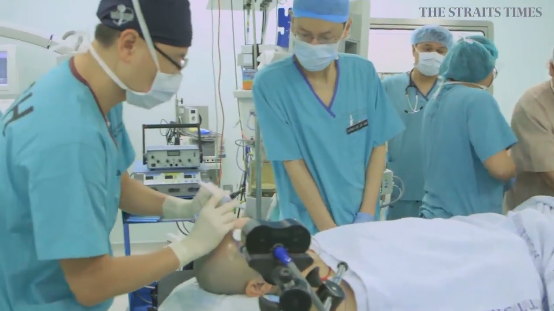 Video footage from a Singapore operating theatre, has shown a complicated brain surgery procedure, performed while the patient was awake.
Zhi Long, the 23-year-old patient, was found to have a possibly aggressive tumor after he volunteered to test new hospital imaging equipment in spring 2017, the Straits Times reported.
Less than a week later, his doctors opted to operate amid fears the potentially aggressive tumor could grow and damage the young man's brain function. The surgery was performed while the patient was awake to ensure his language centers were not effected during the procedure.
Related: Brain surgery performed on wrong patient after hospital ID mix-up
Long's surgeon, Ng Wai Hoe, explained how many patients were chosen for awake surgery when their tumors had been located within a critical area.
"Awake surgery is considered when a tumor is located very close to a critical structure such as a language center and awake surgery allows us to localize these critical areas using electrical stimulation," Wai said.
"We run small currents over specific parts of the brain to identify the areas that control his speech and identify safe areas where we could actually make a surgical incision," he added.
In the footage, Long can be seen talking to his doctors and responding to pictures shown on a tablet. His anaesthesiologist, See Jee Jian, explained how the relatively simple tests showed complicated brain function was continuing despite the surgery and that whatever was being removed was not normal brain tissue.
"My role is to test him continuously which is why I keep showing him different pictures and he has to look at the picture, process it and express it. It is something we take for granted but it is a complex process," Jian said.
Following Long's surgery it was found not all of the tumor had been removed and some ten percent of it was found to contain aggressive cells. He underwent several weeks of radiation therapy and then eight months of chemotherapy, which ended in January this year.