Video Shows Building Reduced to Rubble in Gaza Strip as Airstrikes Continue
Eyewitness video captured the moment a building in the Gaza Strip was reduced to rubble on Thursday as airstrikes in the area continued.
The video taken in the southern city of Khan Yunis, a stronghold of the Palestinian Hamas, shows a building collapse as the air is filled with smoke and debris. Onlookers are heard screaming in the background as the building, the Islamic National Bank, is destroyed after being bombed by Israeli forces.
"A short while ago, [Israel Defense Force] fighter jets struck a multi-story building in the northern Gaza Strip, which contained a branch of a Hamas bank," an IDF spokesperson wrote to Newsweek. "The strike dealt a significant blow to Hamas' financial administration, as this branch was used for managing the day-to-day cash flow of Hamas and its military wing."
There have not been immediate reports on the casualties.
Israel continued to bombard Gaza with airstrikes on Friday, despite international calls for calm, stepping up the deployment of troops and tanks near the border amid a week of unrest after Palestinian militants in Gaza fired hundreds of rockets into Israel on Sunday.
Artillery fire and shelling was reported east of Khan Yunis in the town of al-Fakhari.
As of Friday morning, the latest death toll has risen to 120, including at least 31 children, according to Palestinian health officials. Another 900 people have been wounded in the recent attack. Israeli authorities also reported that eight Israelis, including one soldier, have been killed.
This is not the first time the town has been targeted by airstrikes. In August 2001 and October 2002, Khan Yunis was the site of Israeli helicopter attacks that left several civilians killed, hundreds wounded and civilian buildings destroyed.
Another building in Gaza collapsed on Tuesday after it was hit by an airstrike. A 13-story residential building was hit as the IDF explained in a statement that the building contained offices used by Hamas, the militant group that controls the territory of Gaza.
IDF said it provided "advance warning to civilians in the building and provided sufficient time for them to evacuate the site."
However, Hamas has warned that if residential buildings in Gaza are targeted, they would not sit back and respond with rocket fire. After Tuesday's aerial bombardment, Palestinian militants launched rockets deep into Israel, furthering tensions between Palestinians and Israelis.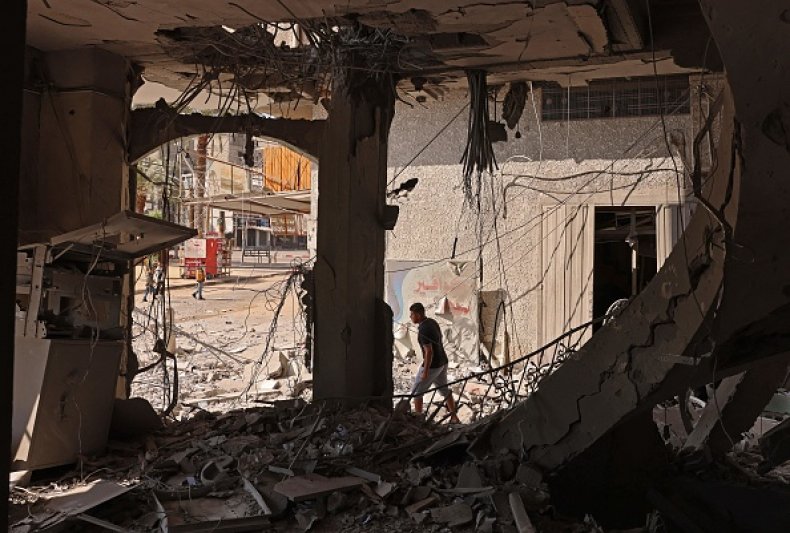 Hamas leader Ismail Haniyeh has called on Palestinian citizens across occupied territories and in Israel to demonstrate on Friday, the second day of the religious holiday Eid al-Fitr.
Meanwhile, President Joe Biden called for a de-escalation of violence in the Middle East as the conflict intensified on Thursday, saying he wants to see a "significant reduction" in rocket attacks "indiscriminately fired into population centers."
But Israeli Prime Minister Benjamin Netanyahu has stated that the conflict "will continue as long as it takes." The U.S. has stated that Israel has the right to defend itself.
The Israeli military said that as of Thursday evening, about 1,800 rockets had been fired at Israel from Gaza, while Gaza authorities have reported over 150 strikes from Israeli airforces.
Updated 05/14/21 1:21p.m. ET: This story was updated with comments from the IDF.