Video Shows Bullets Fly Across New York Street During Wild Shootout
The New York Police Department (NYPD) on Monday released video footage of a gunfight in the Bronx that shows dozens of bullets flying as multiple people run for cover.
The video shows two groups of people exchanging gunfire on East 169th Street before 10 p.m. on September 16, according to police.
The silent, black-and-white surveillance footage shows several gunmen shooting as the groups quickly scatter. One person involved can be seen dropping to the sidewalk to escape the bullets while others crawled for cover behind cars. The majority of individuals quickly ran from the scene.
The video appears to show the two groups opening fire at each other from across the street, with at least eight people seen on one side of the sidewalk amid the chaos. According to police, no one was injured during the exchange.
Officers say the footage gave them a clear image of at least two of the suspects, but they are now asking the public for assistance in identifying the rest.
Anyone with information in regard to this incident has been asked to call the NYPD's Crime Stoppers Hotline at 1-800-577-TIPS (8477) or for Spanish, 1-888-57-PISTA (74782).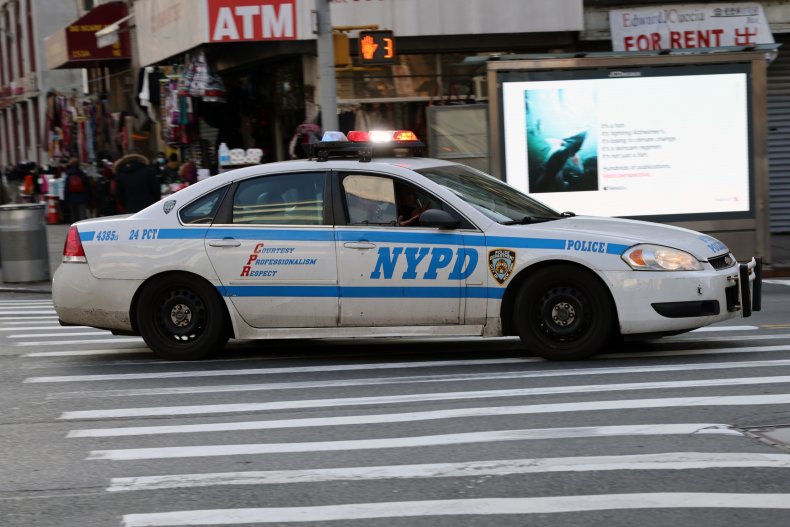 In the past week, there have been at least 40 shooting incidents and 13 "murders" across New York City's five boroughs, according to the NYPD's weekly crime data. There is no information available at this time as to how many of these murders have resulted in convictions.
Data also shows that a recent spike in the city's gun violence has disproportionately affected teenagers, with three 16-year-olds killed in shootings just last week, according to NBC New York. In total, police say the number of teenage victims fatally shot in New York City has more than doubled from last year. So far, at least 16 teens have been killed in 2021.
Gun violence in New York has become so prominent that then–New York Governor Andrew Cuomo issued a disaster emergency to address the issue for the first time in the state's history.
"If you look at the recent numbers, more people are now dying from gun violence and crime than COVID—this is a national problem but someone has to step up and address this problem because our future depends on it," Cuomo said in a statement in July.
The NYPD recorded more than 1,500 shootings in 2020—almost twice as many as 2019—and the violence so far this year has reached levels not seen since the early 2000s, The New York Times reported. In his emergency declaration this summer, Cuomo committed almost $139 million to help quell shootings and murders across the state.
"It is a matter of saving lives, and New York's future depends on it," he said at a press conference. "People are not coming back to this city, they're not coming back to any city, until they know they are safe."