Video Shows Car Driving Through Crowd of Breonna Taylor Protesters in Denver
Denver police have one man in custody after a car drove through a group of protesters blocking the road, hitting at least one person.
People took to the streets Wednesday night to demonstrate against the lack of charges against the police officers involved in Breonna Taylor's death. Louisville Metro Police Department officers fatally shot Taylor in her apartment in March, and there have been months of public demands for the officers to be held accountable. But none of them will face charges related to her death, the Kentucky attorney general announced Wednesday.
A grand jury indicted one only officer, Brett Hankison, with wanton endangerment for shots he fired that entered neighboring apartments. Shock over the news turned to grief, anger and frustration, prompting demonstrations in cities nationwide.
After gathering at the Capitol in Denver, one group began to disperse, and around 11 p.m. Shelly Bradbury, a Denver Post reporter, tweeted that "a smaller cohort" remained. About an hour later, she reported on Twitter that a car drove into the protest area and was surrounded by demonstrators. Video posted on social media shows the protesters yelling at the driver to turn around and a person kicking the driver's car.
"Don't make a f***ing scene, bro, just turn the f*** around. We're asking you nicely," one person is heard saying.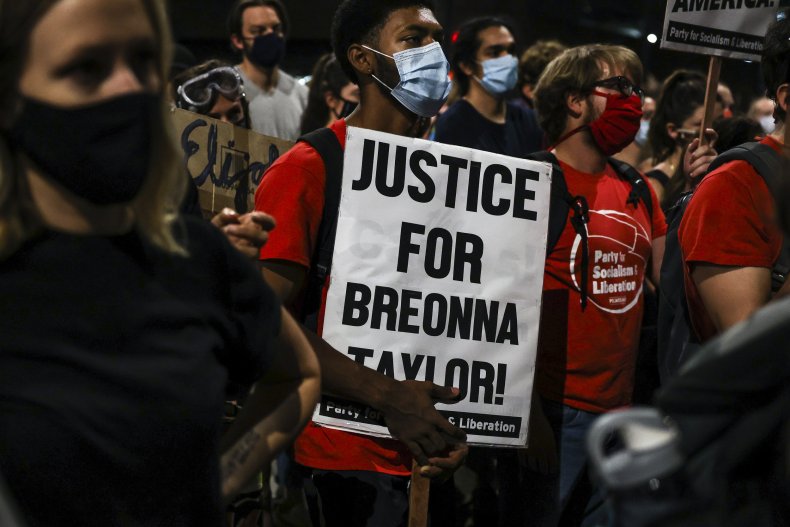 The driver honked at the people standing in his way, and moments later he accelerated forward, driving through the crowd and knocking one person to the ground.
"I was kind of going up on the hood, and I was like, 'No, I'm not doing this,' and I rolled over to the side," said a person identified as just Kate, according to The Denver Post. She was knocked to the ground. "He wasn't gonna stop even though I was, like, on his hood," she told the paper.
Officers responded to the scene near the Capitol and tweeted that no injuries were reported. One male was detained, according to Denver police. It's unclear if the man was released or if he will face charges.
Newsweek reached out to the Denver Police Department for comment but did not receive a response in time for publication.
This isn't the first time a car has driven into a crowd of demonstrators blocking a roadway, and Florida Governor Ron DeSantis is pushing for legal protection for drivers. The "Combating Violence, Disorder and Looting and Law Enforcement Protection Act" that he introduced on Monday would make a driver not liable for injury or death caused "if fleeing for safety from a mob." It also makes obstructing traffic during an unpermitted protest a third-degree felony.