Video Shows Car Swallowed Completely After Hole in Concrete Abruptly Forms Below It
A viral video shared on social media on Sunday shows a parked car sinking into water and disappearing from view after a hole formed below it in the concrete.
The car was parked at a residential lot in Ghatkopar West, Mumbai in India, where reinforced cement concrete had been laid over an old well. Mumbai has been experiencing heavy rain, leading to the concrete sinking beneath the car on Sunday morning.
The video was widely circulated around Reddit and Twitter, with many expressions of shock and concern for the wellbeing of anyone involved.
"Hope it was empty. That would be a s*** way to die," one Reddit user commented.
Another user added: "I'm not getting into the other car to move it, it can stay there forever."
Ghatkopar police issued a statement to local media, confirming the car had been empty at the time and no one was injured in the incident. Asian News International tweeted about the incident, including a quote from the local police.
"There was a well at the spot. Some people covered it with a concrete slab and started parking cars over it. The incident occurred due to land subsidence following rain. No one has been injured," Ghatkopar police said.
The owner of the car, Kiran Doshi, was alerted to what was happening but had been unable to reach the car before it sank, according to the Deccan Herald.
"I immediately rushed out to check it and right in front of my eyes, the vehicle was sucked into the well water... in barely seconds, before we could do anything," Doshi said.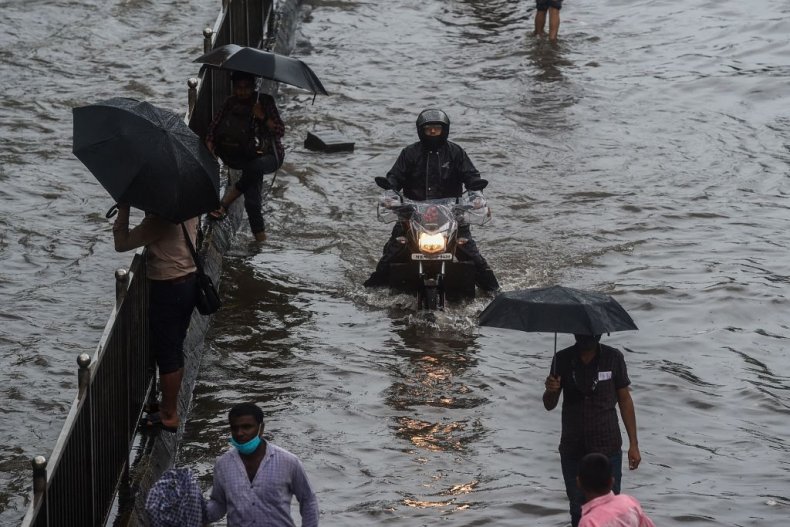 Local authorities and the Brihanmumbai Municipal Corporation (BMC) deployed water pumps and a crane to retrieve the car from the bottom of the 40-foot well, the Deccan Herald reported.
"The housing society had covered a well with reinforced concrete cement and residents were using the area to park their cars. A team from the local police as well traffic police reached the spot and brought the car out of the water body. The spot has been cordoned for the safety of residents," a Ghatkopar police official said, according to the New Indian Express.
Heavy rains have led to waterlogged public transportation such as bus lines and train services, the News Minute reported.
A Central Railway spokesperson reported suburban train services between Dadar and Kurla stations were suspended after water rose above the track level, and a Brihanmumbai Electric Supply and Transport official said several buses were rerouted to avoid water-logging on the regular routes.
BMC officials reported at least five houses collapsing due to flooding, the News Minute reported.