Video Shows Cleveland Cop Pepper Spraying Protester's Face As Department Grapples With 2 Excessive Force Lawsuits
Body camera footage shows a Cleveland police officer pepper spraying a protester directly in her face during a demonstration earlier this year that resulted in two excessive force lawsuits against the city's police department.
The newly released video captured by a Cuyahoga County sheriff's deputy shows a Cleveland Division of Police officer's use of force during a protest outside Cleveland's Justice Center on May 30. Demonstrators were gathered to peacefully protest the death of George Floyd, an unarmed Black man who died at the hands of Minneapolis police officers five days prior.
Several media outlets had requested to see officers' body camera footage from that day after the peaceful protest turned into a riot, with the batch of videos finally becoming public more than two months later. Police officers said that the protesters had grown increasingly unruly, attacking officers with rocks and forcing them to deploy pepper spray and other projectiles to disperse the crowd, cleveland.com reported.
But the newly released videos come amid two excessive force lawsuits already filed against the city's police department from separate incidents caught on camera that day.
In this particular instance, several protesters are seen standing in front of a line of Cuyahoga County sheriff's deputies and Cleveland Division of Police officers, shouting and cursing at the cops.
"You ain't even a man. You can't respond to a question, you can't interact with the public that you are on payroll to serve?" a female protester says. "You're a f***ing joke. You're gonna tear gas me? For standing here with my sign?"
Apart from her language and holding a sign which read, "Give us what belongs to us in peace and if you don't give it to us in peace we will take it by force," the protester remained standing where she was.
"This is a sad f***ing display. You've got people out here peacefully assembling when we should be burning the whole f***ing building," the woman told the officers. Another protester is seen behind her holding a handicap parking sign that appears to have been ripped from the ground and dozens of other protesters in the video's background begin to chant, "I can't breathe."
As the chanting momentarily quieted down, an officer told the group of protesters that they "might want to tell your dude down there to put that sign down," presumably referencing the protester holding the handicap sign, who was still standing near the woman. As the officer spoke, the body camera footage shows a Cleveland police officer firing his can of pepper spray directly at the woman.
"You got her right in the eye," one protester, who rushed to help the woman, said. "Are y'all f***ing joking me? Right in her f***ing face?" another screamed.
"She threw a—he threw a parking sign. You might want to tell your folks that," the officer said, arguing with another protester and claiming "that's what I was trying to tell her to tell him to go get away with that sign."
The footage then cut to the woman who was pepper-sprayed, telling the officer his actions were "appalling."
"I stood here, talking to you, and look at my f***ing face," she said. "I haven't moved and you f***ing burned my face."
Jennifer Ciaccia, a spokeswoman for the Cleveland Division of Police, wrote in an email to Newsweek that "this matter is under investigation within our Internal Affairs unit."
Newsweek contacted the Cuyahoga County Sheriff's Department for comment, but did not hear back in time for publication.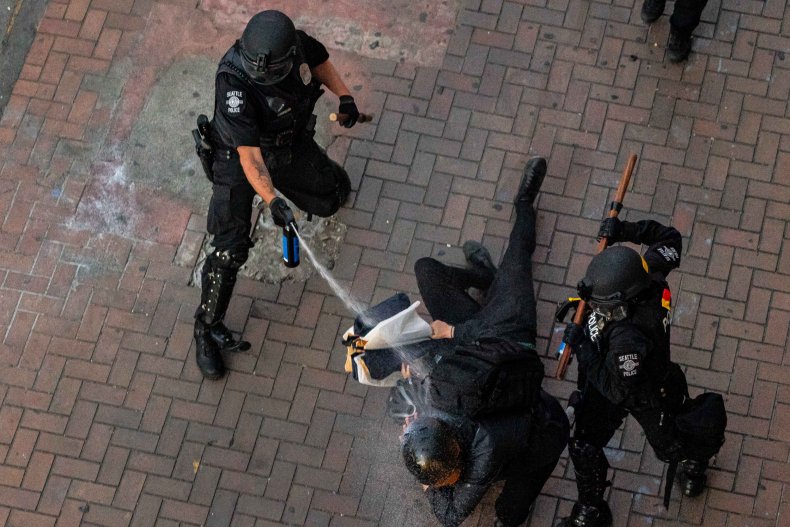 This was not the only incident involving force to come from the May 30 protests. Two demonstrators have filed excessive force lawsuits against Division of Police Officer John Kazimer in separate altercations.
A video captured Kazimer beating protester Ryan O'Connor with a baton in the back of his legs as O'Connor attempted to separate the crowd from police, and photographs showed Kazimer pepper spraying Jaleesa Bennett in the face while she held up a poster reading "Black Lives Matter," cleveland.com reported. Cleveland police are investigating these incidents as well, according to cleveland.com.
Kazimer is also the subject of a civil lawsuit over a 2015 non-fatal shooting involving a man who attempted to run away from Kazimer and his partner after they stopped his car. Kazimer fired several shots at the man, hitting his stomach, cleveland.com reported. The civil suit was refiled in state court in June.
The identities of the officer and protester involved in the newly released pepper spray incident have not yet been publicly disclosed.
Update (08/06/20, 4:28 p.m.): This article has been updated to include a comment from the Cleveland Division of Police.