Video Shows Colombian Woman Screaming for Police to Kill Her After Her Only Son Was Killed in Protests
A video circulating online shows a Colombian woman screaming at police to kill her after her only son was killed during recent protests.
"I'm going with my son. I'm going with my son," she wails. "He was my only son. He was my only son. They kill me. They kill me."
She adds, "They have to kill me. They shoot me too."
The situation in Colombia has received international attention in recent days as protests against a planned pandemic-related tax hike have left at least 19 dead and hundreds injured. Colombia's Defensoría del Pueblo, its public ombudsman, reported that 89 people were missing following the protests.
Tens of thousands of people have taken to the streets to demand economic justice as the government was preparing to introduce a tax overhaul meant to fill a fiscal hole created by the coronavirus pandemic. Protests began last Wednesday, and by Monday at least 18 civilians and one police officer had died.
Even though President Iván Duque announced on Sunday he would withdraw the current proposal, public anger has continued across the country.
South America has been particularly hard hit by the virus, and many are frustrated by the rising poverty, unemployment and inequality triggered by the pandemic. Duque's plan was heavily criticized for favoring the wealthy and placing a greater strain on the middle and lower classes.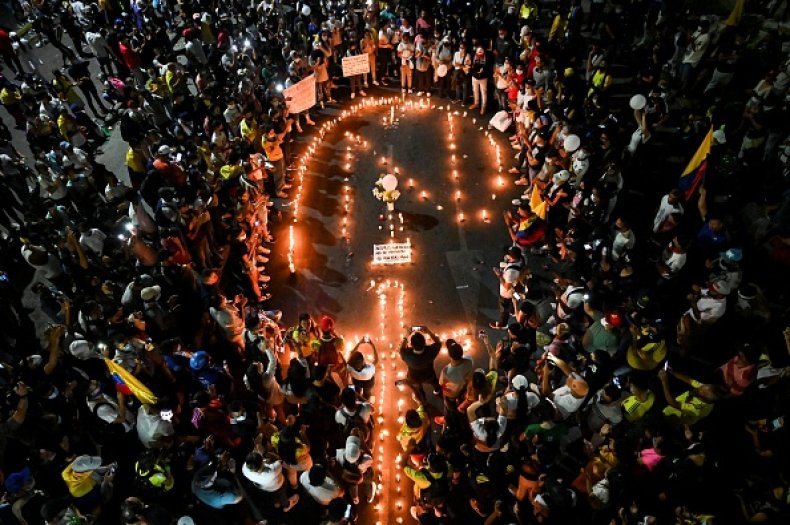 Several instances of police brutality have been captured on video in recent days, with hundreds of posts flooding social media.
Stiven Soñador, a 27-year-old human rights lawyer who took part in the protests, described Monday's scene to The Washington Post.
"They were even firing shots from helicopters," Soñador said. "Police started to fire shots and people ran to their neighborhoods, but inside the neighborhoods there were more [police] waiting."
On Tuesday, hundreds gathered at the same place where protesters had been shot a day earlier, to light candles and place photos of the dead.
At least 540 police officers have been hurt in the protests, and more than 100 buses have been vandalized or burned, according to the national police. Police also said nearly 17,000 people were identified as not complying with public health measures, such as mask wearing, amid the country's second wave of the coronavirus.
Álvaro Uribe, the country's former president, tweeted that Colombians should support "the right of soldiers and police officers to use their weapons to defend themselves" against "terrorism." Twitter removed the post shortly afterward, saying it violated rules "regarding the glorification of violence."
In an address to the nation on Tuesday, Duque said, "In recent days we have seen those who peacefully expressed their discontent, those who express their optimism and desire to get ahead. We have also seen a few who have looked to terrorism, to vandalism."