Video Shows Detroit Cop Allegedly Punching Man in Face in Area Plagued by Street Fights
A Detroit police officer is being investigated after a video that shows him allegedly punching a man in the face went viral over the weekend.
The 45-second video, which was posted to Reddit Sunday and had drawn more than 1,500 comments by Monday afternoon, appears to show an officer punch a man—who was standing in a crosswalk in the city's Greektown neighborhood—in the face, knocking him over.
The video then shows two officers sit the man up before they leave. He then falls back over, and two civilians help the man stand up.
"You all ain't got to do that, dog," a man, who was not shown, could be heard saying in the video.
Detroit police told the Detroit Metro Times, a local newspaper, that the officer is being investigated by its internal affairs division. Police did not say whether or not the officer was placed on leave. The video does not show police make any arrests.
"The Detroit Police Department was made aware, via social media, of an allegation of excessive force in Greektown," Second Deputy Police Chief Rudy Harper told the paper. "DPD is committed to remaining transparent throughout this process and will provide updates to the community and our media partners as soon as practicable."
Newsweek reached out to the police department for comment but had not heard back by publication.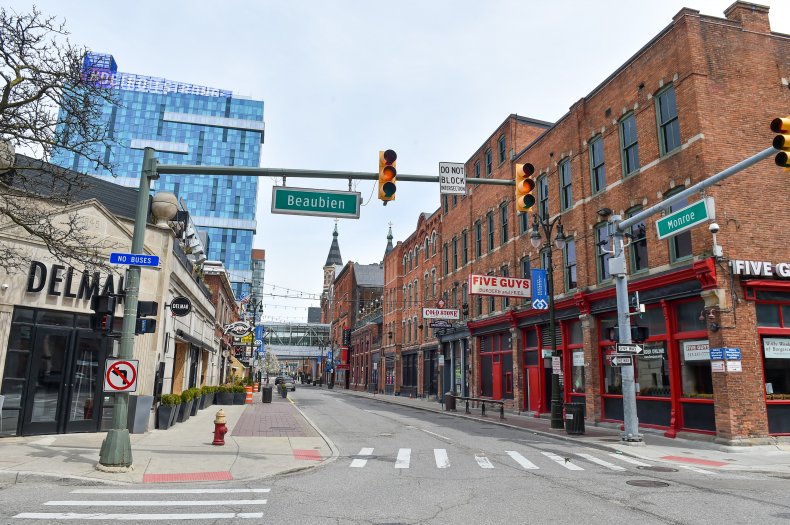 Steve Neavling, a reporter for the Detroit Metro Times, posted the video to Twitter, where people condemned the officer.
"When a person hits the back of their head on the ground like this man did, it can cause serious injury, if not death," one user, @Schardten, responded. "The officer knew what he was doing when he pushed him backward, and he knows what the outcome could be.
The Greektown neighborhood has seen a rise in violence, prompting police to increase police presence in the past few weeks, WDIV reported. The safety plan, called the "Greektown Crackdown" prompted more officers as well a zero-tolerance policy for any type of illegal activity. It was developed after large fights happened over multiple weekends.
Despite the increased police presence, some fights have continued to happen, WJBK-TV, a Detroit-based television news station, reported. A video went viral last month that showed a man being punched to the ground in the neighborhood.
Police Chief James White told the station having the officers in the area has made a difference.
"I think the officers are doing an amazing job, I really do, fights are gonna happen," he told the news station. "I want to make sure I have officers in the area—which I did—and then they were doing what we expect them to do."