A video tweeted by The Kyiv Independent showing the Ukrainian army with an M777 howitzer has sparked interest on the internet after a reporter said the artillery would be used to turn "a bad Russian into a good one."
The M77 howitzer field artillery pieces are being donated to Ukraine by Western allies to target invading Russian forces. The U.S., Australia and Canada are providing the additional firepower.
Kyiv Independent journalist Oleksiy Sorokin tweeted the video of soldiers surrounding one of the cannons.
"Russians are about to meet the M777 howitzer, kindly donated by the US, Canada and Australia to transform a bad 'ordinary Russian' into a good one," Sorokin wrote.
The M777 howitzer is a towed cannon weapon that "provides timely, accurate and continuous firepower," according to Military.com. The M777 model has a maximum range of 15 miles and requires a crew of eight to 10 people to operate it.
The Times of London reported on Monday that Ukrainian forces were already shelling Russian positions with M777s, saying that experts believe whichever side can fight with artillery and drones more effectively in Donbas will have the advantage.
A senior U.S. Department of Defense (DoD) official said 85 of the promised 95 howitzers have been delivered to Ukraine along with 110,000 rounds of ammunition, adding that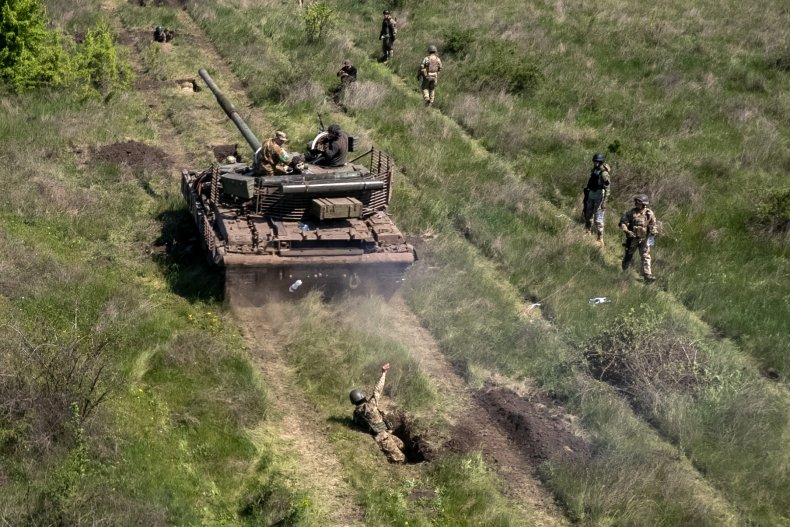 hundreds of Ukrainian soldiers have been trained to use, maintain and fix the howitzers, with another 50 troops in training at the moment.
"The howitzers specifically are being used in combat, and I don't know how many, and I don't know where, but they are being used," Pentagon press secretary John Kirby said during a Friday briefing.
"What we're hearing from the Ukrainians, they [howitzers] are very useful and they're grateful for them and that they are having an impact because they're additive to their own artillery pieces," Kirby continued.
Kirby acknowledged that maintenance of the artillery weapons would be likely, adding that the U.S. has included spare parts in shipments and that training courses would likely become "an ongoing requirement."
"We're going to stay open-minded here, and if there's a need for additional training, if there's a need for other systems that could use some maintenance support, to include the provision of spare parts—because we can't expect that the Ukrainians are going to necessarily have old spare parts for these things—then we're going to do that," Kirby said.
Newsweek reached out to the Russian Federation and Ukraine Armed Forces for comment.