Video Shows Drunken Man Accost Comedian During Her Stand-Up Set
A TikTok video posted by comedian Jenny Zigrino shows a drunken man accosting her during her stand-up routine.
The video of the incident, which has been viewed over 1.9 million times on TikTok as of August 27, begins with on-screen text that reads, "That time I almost got attacked at a show..." It shows Zigrino performing onstage at an indoor San Diego venue on August 26.
Over a microphone, she yells, "Sit back down, right now!" as a male audience member stands up and slowly walks towards her. "Don't come anywhere closer," she adds.
Another audience member says, "Yeah bro, chill." A woman yells, "Bro!"
Zigrino then says, "Seriously, go away. Serious, go away, dude." At that moment, several other comedians begin approaching the stage to throw the man out. "Get the f*ck out of here," she says.
Zigrino told Newsweek that when the man entered the venue, he entered from a non-entry door behind her onstage in the middle of her performance. He was "very drunk," she said, and he handed her a bottle of wine before sitting in the audience.
He chose a seat somewhat blocking the camera she had set up to record her routine. She jokingly scolded the man for his interruptions, trying to keep the mood light. The man then began nudging the male stranger sitting across from him with his hand, as if to get his attention. The other man shrugged as if not understanding.
Irked by his being "generally disruptive", the comedian then asked the drunk man, "What the f*ck is your deal?"
"Then he came up towards me, not like he was going to attack me, but like, aggressively make out with me?" she jokingly said in a follow-up video. After the show, a man told her that the incident was "crazy", but added, "At least you got a bottle of wine."
"And I was like, 'I almost got attacked!'" she said.
"Every female comic has had to deal with this sh*t," she told Newsweek. She has been called "fat" and heckled in red states for being a feminist. A man once publicly smacked her rear during a meet-and-greet event.
In yet another follow-up TikTok video, she said the comments on her video of the original incident had been "a real wild ride... of garbage people." She then added, "and some really good people."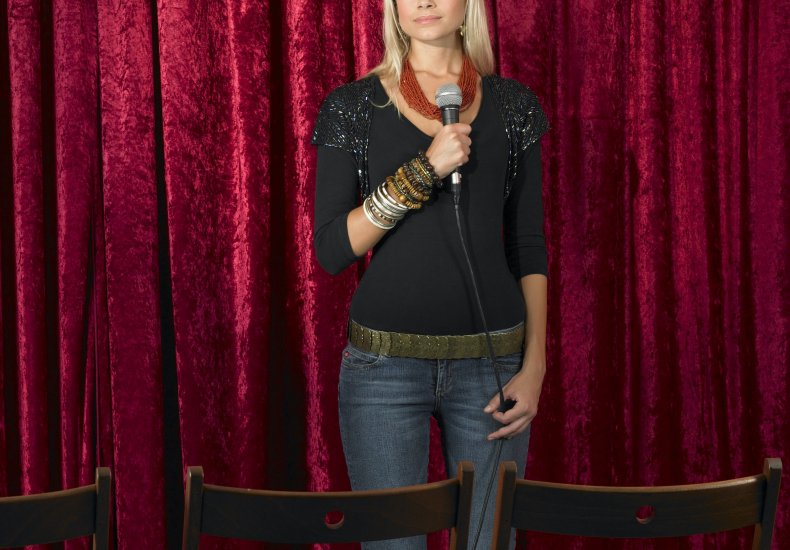 Many male commenters on TikTok saw the prospect of her getting beaten up onstage as "sweet revenge" for her not needing men, she explained in another follow-up.
"Those guys are insecure pr*cks," she whispered.
She then added, "Have you ever looked at my videos? When have I ever said that I don't want a man? ... I love men. I want men.... It's just that I want the men that aren't a bunch of cowards like you."
Zigrino told Newsweek, "There's just there is this underbelly of dudes who want to see women get hurt because they feel hurt by women. That's really scary.
Zigrino is far from the only female comedian to encounter hostility from men while working in her field.
Comedy remains largely male-dominated, a group of comedians, female comics told The Guardian. Some male promoters never book more than one woman in a group of comics.
The female comedians also spoke of a "whisper network" where women advise one another of male colleagues infamous for physical harassment, misogynist remarks and hostility towards women.
Zigrino told Newsweek she has been paid less for performing as a veteran headliner than some men doing opening acts who have less experience. Male booking agents have expressed surprise that she's actually funny, a throwback to an older mentality that believes women just aren't funny.
"I still see clubs featuring one woman on their entire set," she said. "And they'll say things like, 'You know we try to get women.' And it's like, 'No you don't. You don't, because there are tons of women in the city, and you don't try.'"
Despite the bad experiences, she said she feels the misogyny in her field is lessening. More women are becoming comics and more male allies are helping shift the culture in women's favor, she said. The audience now audibly disapproves of fat jokes about women and speaks out when comedy line-ups don't feature female performers.
Though misogyny has driven other female comics to quit, she told Newsweek, "I really don't want to stop. I love this job. It's 10 percent bad, 90 percent really good. And the good stuff, that is why I keep doing it."
Correction 08/28/2021, 9:42 p.m. ET: The headline of this article was changed to more accurately reflect the incident at hand.
Updated 08/29/2021, 4:24 p.m. ET: This story has been updated with statements from Jenny Zigrino.