Video Captures Two Skiers Falling Nearly 500 Feet Down Mountain
Two skiers had a scary fall down Tuckerman Ravine in New Hampshire's Mount Washington Sunday that was captured on video by a local mountain guide. The pair tumbled nearly 500 feet down the mountain.
The short video shows the duo spill down the mountainside rapidly. The skiers were not injured in the fall, according to WHDH.
"It is really dramatic to watch," David Lottmann of Northeast Mountaineering, who took the video, told WBZ-TV. "Then they basically stood up and brushed themselves off and were good to go."
Lottman, who was teaching a local mountain course, saw it all unfold. According to Lottman, the snow was hard at the time and contributed to the fall.
The mountain guide saw the pair start at the top, known as "The Lip," and tumble down 500 feet, WBZ reported.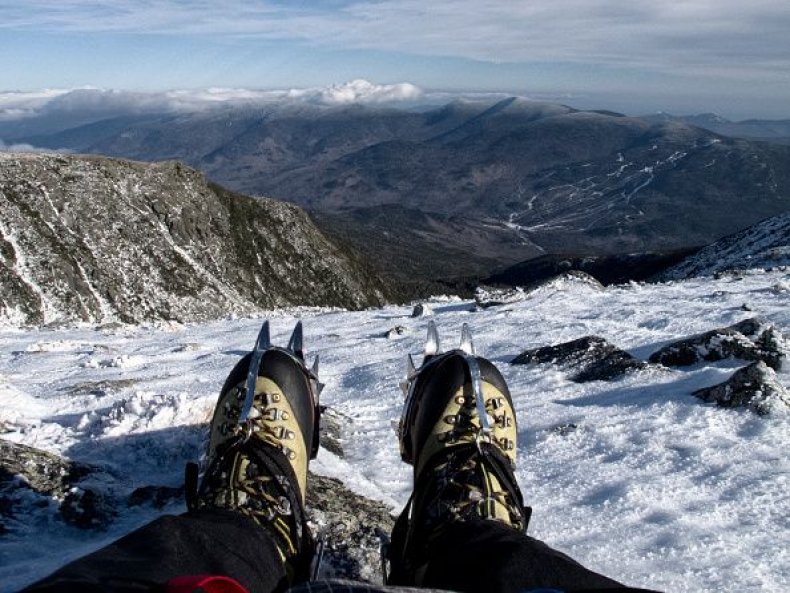 "The snow is still in a mid-winter state up there; it hasn't turned into a spring snowpack," Lottmann said. "The spider senses went up on the back of my neck and I thought, 'Okay I'm going to start recording'."
The news outlet reported that the mountain guide is using the video as a reminder for skiers to be aware of their conditions, and that a ski run could escalate and turn dangerous within minutes.
"The snow can be soft and buttery and fun at 2 p.m. and at 3:30 it can be survival skiing," Lottmann told WBZ.
Lottman has seen many accidents during his time as a mountain guide—six years ago, a hiker was killed falling in the same area where the skiers fell, according to WBZ.
Last year, the Mount Washington Avalanche Center issued a warning when a skier triggered an avalanche on the top of the mountain.
"We can talk all day and try to teach as much as we can, but there is nothing more effective than watching the powder cloud rip down the mountain," the warning said.