Video Shows Elderly Russian Woman Pushed to Ground by Police During Protests
A new video shows an elderly Russian woman kicked to the ground by police officers during protests in support of opposition leader Alexei Navalny.
The video, which was posted to Twitter by Russian TV network Dozhd, showed police officers dressed in riot gear escorting a man in St. Petersburg. As the officers were walking on the street, a woman can be seen walking in front of them. She is then kicked to the ground by one of the police.
"A woman who was kicked in the stomach by an OMON officer in St. Petersburg received a concussion from hitting her head on the asphalt," the tweet said, as translated by Google. "She is in a moderate condition." (OMON refers to special purpose police units.)
The video, which was posted to Twitter on Saturday, came amid mass protests in Russia following the arrest of Navalny, a prominent critic of Russian President Vladimir Putin. Navalny was arrested the previous Sunday at a Moscow airport after returning from Berlin, where he was recovering from a poison attack that he said Putin had ordered. Navalny called on his supporters to protest and urge his release.
Other photos and videos of the protests were posted across social media. "Massive protests in Russia today, where people are pelting cops with snowballs," Twitter user Joshua Potash wrote.
Another video, posted to Twitter by Reuters, showed both Navalny's wife, Yulia Navalnaya, and Lyubov Sobol, a lawyer for Navalny's Anti-Corruption Foundation, being detained by police.
Reuters also reported that more than 3,000 residents were detained by police during the protests, despite authorities' warnings not to attend protests because of the coronavirus risk as well as possible jail time for attending an unauthorized event.
On Monday, Putin condemned the protests, calling them "illegal and dangerous," according to the BBC.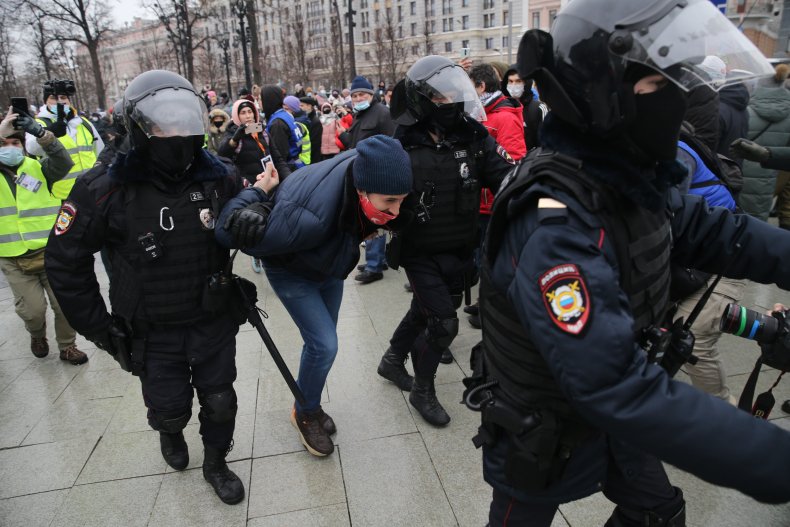 The U.S. State Department also responded to the protests over the weekend, saying in a statement that it "strongly condemns the use of harsh tactics against protesters and journalists this weekend in cities throughout Russia."
"Continued efforts to suppress Russians' rights to peaceful assembly and freedom of expression, the arrest of opposition figure Aleksey Navalny, and the crackdown on protests that followed are troubling indications of further restrictions on civil society and fundamental freedoms," the statement said.
"We call on Russian authorities to release all those detained for exercising their universal rights and for the immediate and unconditional release of Aleksey Navalny," the State Department's statement continued. "We urge Russia to fully cooperate with the international community's investigation into the poisoning of Aleksey Navalny and credibly explain the use of a chemical weapon on its soil."
Newsweek reached out to the Russian Federation's Ministry of Internal Affairs for comment but did not receive a response in time for publication.