Video Shows Face-Off Between Woman and Squirrel: 'It Did Indeed Jump at Me'
A woman's efforts to get a squirrel out of her house did not go as planned, as seen in a video posted to TikTok and viewed nearly 2 million times.
The video, posted by TikTok user @cassidy.leach, opens with a shot of a woman wearing gloves and holding a broom in one hand and a baking sheet in the other.
"I'm scared," the woman said in the video as she prodded a window's blinds with the broom. "What am I going to do if he jumps at me?"
A woman off-camera reassured her that it would "be alright."
She poked at the blinds once again before she lifted the window's valance.
The squirrel lept out and both women let out a scream. The woman holding the broom and baking sheet ran off-camera and the squirrel darted after her. There was a clatter heard in the background before the video ended.
"It did indeed jump at me," the video caption read.
According to The Humane Society of the United States, squirrels may get into houses through an open door or window, or they can make their way down a chimney and through the fireplace.
People who are met with an unexpected wildlife visitor in their home are encouraged to put their pets in another room, close the interior doors and open a window or exterior door in the room the squirrel is in.
"Leave the squirrel alone, so they can find their way out," The Humane Society reported. "They may even jump from a second-story window onto a lawn without harming themselves, but don't let them jump onto concrete."
If there is not an exit available, they may use a blanket to get the squirrel out of the house.
Wearing heavy gloves and holding a blanket in front of their body, the individual should slowly approach the squirrel before dropping the blanket on it, loosely rolling it up.
"Take the squirrel in the blanket immediately outside and gently open the blanket on the ground, letting the squirrel escape," the piece reads.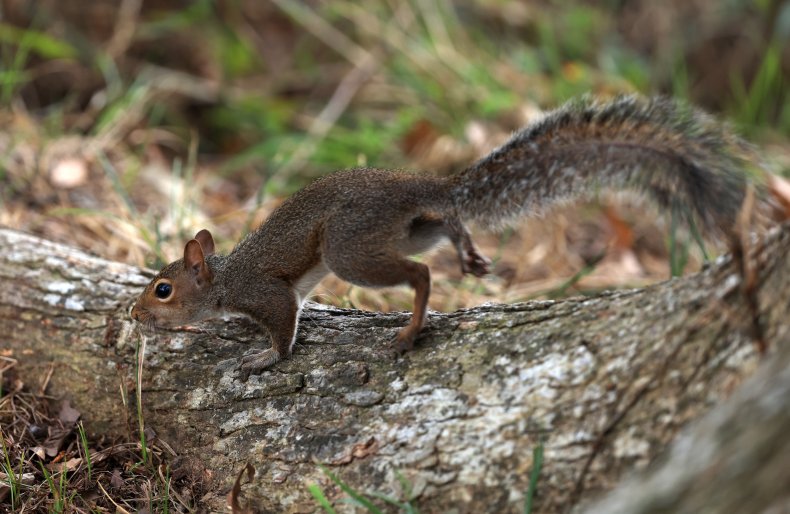 Though the squirrel shocked the residents of the house, many TikTok viewers found the video hilarious.
"When it ran past the screen I just about lost it lmao," Brooke Miranda commented.
"The way it chased you," sam.pana wrote.
Others joked about the squirrel's perspective on the incident.
"[Squirrel's] like, 'Hey where's everybody going??" Jennifer Lynn commented.
"Wait...I just want to talk to you about your [car's] extended warranty...," wrote Cagenation.
Some drew the comparison between the TikTok video and the well-known scene from National Lampoon's Christmas Vacation in which the main character had to figure out how to get a squirrel out of his house after he found it was living in his Christmas tree.
Newsweek reached out to @cassidy.leach for further comment.