Video Shows Family Dog Wagging Tail as Mountain Lion Paws Glass Patio Door Separating Them
A Colorado dog owner captured a "scary" stare-down between her family pet and a mountain lion on video Thursday.
The video shows a "big, big mountain lion" roaming the patio of a home in Grand Lake, Colorado. The wild animal appears to be staring into the home—right at the 13-year-old shih-poo, named Dash.
Dash's owner, Sarah Boles, filmed the three-minute encounter while pleading with the dog to walk away from the glass window—the only barrier standing between the two animals. A video of the stare-off has been viewed more than 3.5 million times on TikTok as of Sunday evening.
"He wants to eat my dog," Boles said.
The mountain lion approached the door, prompting Boles to tell the dog, "Dash, get back."
She continued begging with Dash to move away when the mountain lion began tapping on the door with his paw.
Dash, on the other hand, started wagging his tail—even as the mountain lion continued pawing at the glass.
"Not going to lie," Boles said. "This is really scary."
The mountain lion then walked around the porch before making its way back to the door. After several more seconds of staring, the mountain lion started to walk off.
That's when Dash began barking at the mountain lion. But the large cat appeared unfazed, leaving the area.
Boles did not believe the mountain posed a threat to her safety.
"At no time was the lion aggressive, but rather it was just as curious as my dog to figure out what was on the other side of the glass," Bole told Storyful. "Although I was a bit shaken, I don't feel I was in any danger and the lion was curious about its own reflection and the dog."
The cat was "the most beautiful animal I've ever seen, and so powerful and frightening at the same time," she told local paper Sky-Hi News. "I knew the cat couldn't come in in my rational brain, but...I'm five feet away and it's tapping on the glass."
Granby wildlife officer Serena Rocksund told the paper that it never looked like the mountain lion was trying to track the dog.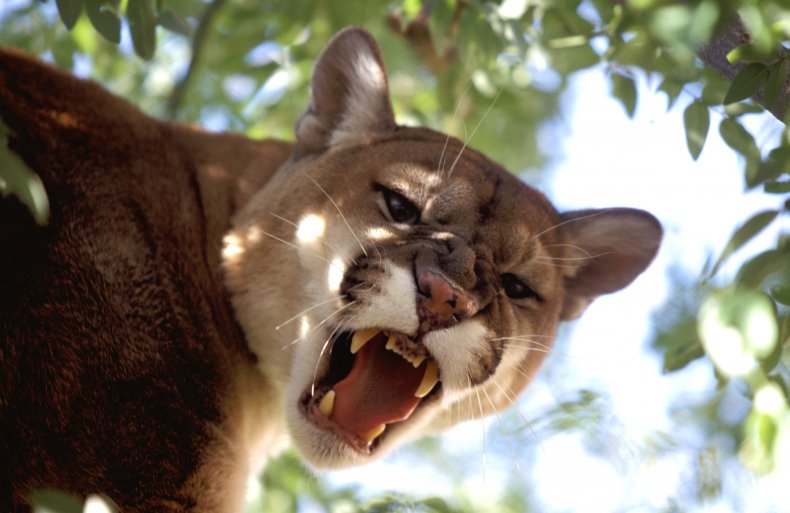 "I don't think the cat could see her but maybe some movement inside," Rocksund said.
Rocksund added that anyone who encounters a mountain lion should make loud noises to scare it off.
"Sarah was making noise but she was being pretty quiet, and with interactions like that we recommend people be very vocal and let them know a human is around," she said. "Mountain lions are naturally scared of people."