Video Shows Fight Break Out at North Carolina Gas Station Amid Fuel Shortage
Video footage captured a fight that broke out at a North Carolina gas station on Tuesday, as people rushed to fill up their tanks amid a shortage caused by a cyberattack on the nation's largest fuel pipeline.
The video shows a man and a woman at a Marathon gas station in Knightdale, North Carolina, fighting over one of the gas pumps. Knightdale is about 13 miles east of Raleigh.
The man who recorded the video, identified in the media only as Rashaad, told WRAL he was in line waiting to fill his tank when he saw the intense fight take place.
Rashaad told the news station that the altercation began after a woman in a white sedan tried to cut into a long line of cars waiting to fill up. When no one would let her in, she crashed into a man's Honda at one of the pumps.
After hitting the man's car, the woman got out of her vehicle and spit on the man while yelling. In response, the man spit back on the woman, and video footage shows the two repeatedly striking each other.
Rashaad told WRAL that the two continued to push and pull at each other until police arrived. However, the Raleigh and Durham police departments told the station that they did not file any reports on the incident.
The fight took place amid reports that nearly 1,800 stations across the Southeastern U.S. have run out of gas after a ransomware attack halted operations on the Colonial Pipeline last week.
That pipeline delivers about 45 percent of the fuel consumed on the East Coast, prompting residents across several states to rush to buy supplies of gas. According to North Carolina Governor Roy Cooper and White House officials, gasoline hoarding has since led to widespread shortages and inflated prices.
By Wednesday, up to 71 percent of stations in Charlotte, North Carolina's largest city, had run out of gas. In other areas, as many as 78 percent of stations have run dry, Patrick De Haan, an analyst with GasBuddy.com, reported.
On Tuesday, Cooper joined the governors of Georgia, Virginia, and Florida to declare a state of emergency in North Carolina as motorists flocked to the pumps and waited in long lines to stock up on fuel.
The North Carolina governor also moved to temporarily suspend motor vehicle fuel regulations to ensure adequate fuel supplies throughout the state, WBTV reported. On Tuesday, Cooper urged residents to report price gouging and avoid rushing to stations to fill up tanks unnecessarily.
"I have talked today with federal officials including Energy Secretary Jennifer Granholm and we have a full court press to get the Colonial Pipeline back up and fully operating quickly. Report price gouging and please don't rush to top off your tanks," Cooper tweeted.
One of Colonial's major lines resumed operations manually on Monday, and the company expects to substantially restore operations by the week's end, Granholm said during a White House briefing Tuesday.
However, she said it will take a few days to get the pipeline fully operational and reiterated that drivers should avoid hoarding.
"Much as there was no cause for, say, hoarding toilet paper at the beginning of the pandemic," Granholm said, "there should be no cause for hoarding gasoline, especially in light of the fact that the pipeline should be substantially operational by the end of this week and over the weekend."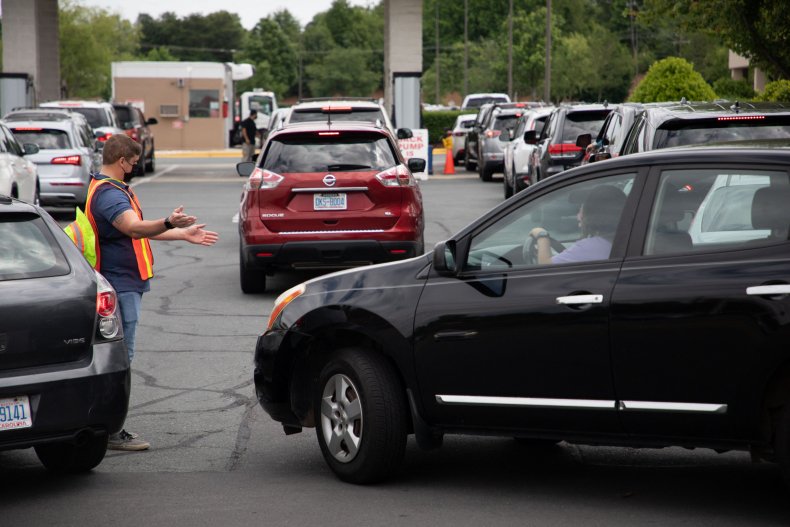 The FBI on Monday identified DarkSide, a criminal syndicate with ties to Russia, as the hacking group behind the Colonial Pipeline cyberattack. Later that day, the group acknowledged responsibility and issued an unusual apology, claiming that the goal was not to create "problems for society" but rather to "make money."
On Monday, President Joe Biden told reporters that while there is "no evidence" that Russia was behind the pipeline cyberattack, there is evidence that the actors' ransomware is in Russia. "They have some responsibility to deal with this," he said.
Newsweek contacted Cooper's office for additional comment but did not hear back in time for publication.