Video Shows Fire Allegedly Set by Customer in Walmart Aisle
A viral video circulating TikTok shows an aisle of paper towels inside a Walmart completely up in flames.
The TikTok, uploaded by Geordyn Ader who goes by @thriftymuse, received more than 8.6 million views and 10,600 comments from concerned viewers since it was posted on January 26.
"Someone got mad that Walmart was out of almond milk then started a fire," the on-screen text on the video read.
The video showed several rows of Bounty paper towels on fire in an aisle and an employee wearing a yellow vest extinguishing the items.
But Ader told Newsweek that the fire, which occurred at a Walmart in Cameron, North Carolina, was not caused because of an angry customer and that she was joking.
She explained that the almond milk story became a running joke within the community and she thought it would be funny to add to the TikTok.
In a comment on the viral video, Ader said she is aware of the real reason for the fire and that the video "brings humor to a dumb decision that is unacceptable to do for any reason."
Ader told Newsweek that the fire was probably caused by a person allegedly attempting a TikTok "trend" in which people light random items in Walmart on fire. She explained that this is not the first time this has happened in North Carolina.
It is still unclear the age of the people involved, but a wanted poster from the Harnett County Sheriff's Office said they are asking for assistance identifying an adult woman.
Another viral TikTok posted by a user claiming to be a Walmart employee, Michael or @monark5522, confirmed the almond milk reasoning was not true. He said that two younger children allegedly caused the fire by setting a row of Bounty paper towels on fire with a lighter.
Michael claimed in one of his videos that the damages from the fire totaled more than $10,000 and that the children's guardians will be responsible for paying. He said the woman police are looking for was with the children.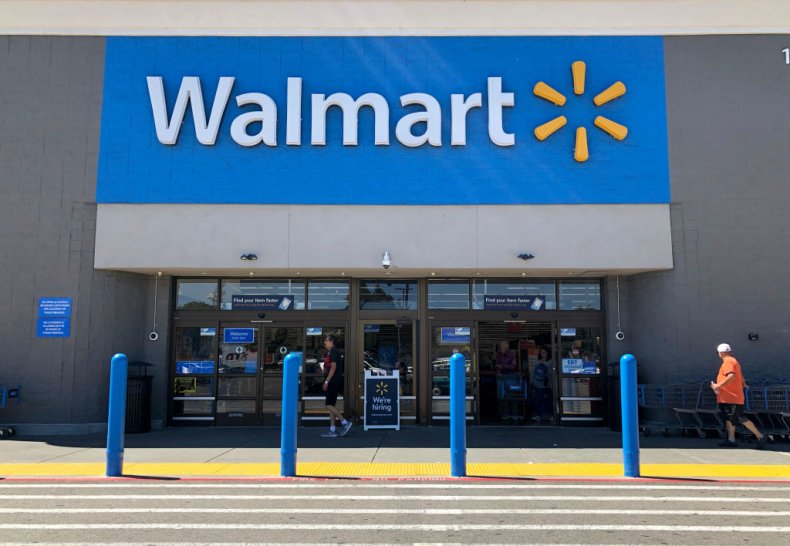 Police have not yet confirmed the motive of the fire, and Ader said "everything is just speculation." But people in the community are discussing the incident in private Facebook groups and trying to figure out why this situation occurred, Ader said.
"Whether it is a trend for TikTok, or if it is in order to create a distraction to steal merchandise is still unknown," she told Newsweek. "But those are the two main speculations as to why this keeps happening in our state."
On January 20 at a Walmart in Salisbury, North Carolina, a customer set shelves of piñatas on fire. Footage of the incident was posted to TikTok where it received more than 2 million views.
In Raleigh, the capital of North Carolina, a man was arrested after he intentionally set fire in an aisle carrying household products. The man's motive was not released but police said he set fire to his own belongings inside the store.
A spokesperson for Walmart told Newsweek they are working closely with law enforcement.
Newsweek reached out to the Harnett County Sheriff's Office for comment.