Video Shows Florida Man on Paddleboard Pull Alligator out of Sea: 'Crazy, But Very Florida'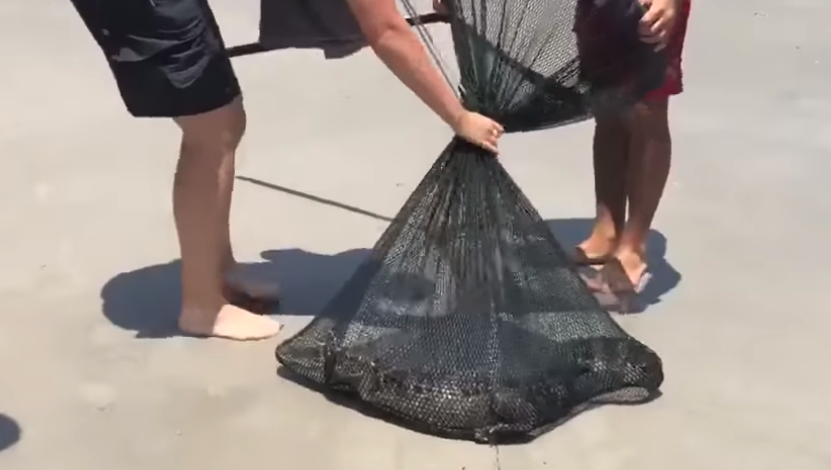 Florida officials have removed a three-foot alligator from the sea after it was spotted swimming at Jacksonville Beach on Saturday afternoon.
Video footage published by WJAX-TV showed beachgoers and families crowding on the beach to watch the operation—as a man on a paddleboard briefly grabbed the animal on the snout. It was eventually captured in a net, brought to shore and loaded into a truck by lifeguards.
The gator was first reported by a member of the public, who called officials about a "weird animal," Jacksonville Beach Ocean Rescue Capt. Max Ervanian said in a statement posted by WJXT.
The statement elaborated: "An ocean rescue tower at Sixth Avenue South was flagged down by a beach goer reporting a weird animal in the water at Fifth Avenue South.
"Upon further investigation, it was deemed to be an alligator. Ocean rescue contacted the JBPD [Jacksonville Beach Police Department] animal control and called FWC [Florida Fish and Wildlife Conservation Commission] for assistance. The alligator was removed from the surf."
Ervanian told WJAX-TV the alligator was possibly sick from being in the salt water and it was only the second time that he had experienced one of the animals being found in the Florida ocean. "We possibly think, as before, it went down in the sewer drains, came out of the sewer drain that's on the beach proper, then was a little lost and ventured into the water," he theorized.
An eyewitness to the commotion, Adrielle Plasenci, added: "I heard this girl come up and say, 'Oh my God, there's an alligator,' and I was like, 'What's going on?' Crazy, but very Florida."
Alligators do not live in the sea, the National Ocean Service says. Online, it notes they are typically freshwater animals. A fact sheet explains: "While alligators can tolerate salt water for a few hours or even days, they are primarily freshwater animals, living in swampy areas, rivers, streams, lakes, and ponds."
An official with the Florida Fish and Wildlife Conservation Commission told WJAX-TV reporter Brittney Donovan that it was uncommon but "not unheard of" to find a gator in the local ocean. The agency said the animal would now be relocated, but did not reveal its next destination.
Last month in Florida's Brevard County, a woman was bitten by an alligator while swimming at Key Lake Wilderness Park. One witness claimed that the animal had been around eight feet long.