Video Shows Florida Suspect Flee Police in Stolen Patrol Car, Crash It and Take Off in Another
Officers in Cocoa, Florida, pursuing a police vehicle stolen from their department thought the worst was over when the suspect was forced off the road—that is, until the suspect took off in a second police car.
Police said in a statement that officers were responding to a disturbance at a motel on Thursday afternoon when they stopped Xavier Javern Cummings, who managed to get into their unlocked car as the officers were questioning him.
Deputies at Cocoa Police Department were alerted that the 33-year-old suspect, who is a Cocoa resident, was entering Volusia County on 1-95, where an officer was able to force the car in the woods. Cummings quickly emerged from the wreckage and stole another Cocoa police car as responding officers left their vehicles to approach the crash.
Volusia County Sheriff Mike Chitwood said that officers in Cocoa tried a pit maneuver to make the car veer into the wooded side of the highway. Officers attempted to remove Cummings from the vehicle, but he managed to run away and climb into a second Cocoa police car that was running and unlocked.
Units from multiple counties, as well as the Volusia Sheriff's Department, set up stop sticks along the suspect's route, running him off the road once again. Additional units took the suspect into custody without any police or suspect injuries.
"The suspect and the vehicle were in the wooded area just off the highway. As officers attempted to take the suspect into custody, he fled, jumped into another Cocoa patrol vehicle and continued north," Cocoa PD said in a statement.
The county was forced to shut down the highway while the pursuit was active, Voulisa Sherriff's Department said Thursday.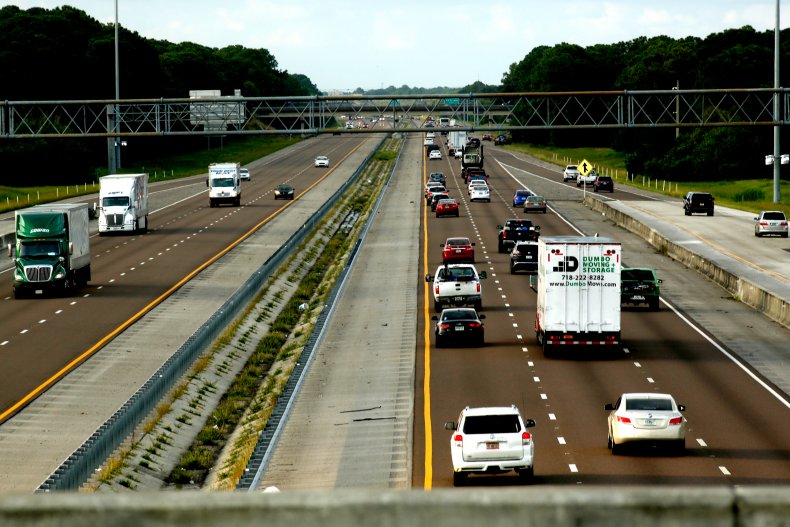 Cummings was charged with armed burglary of a conveyance, escape, fleeing or attempting to elude law enforcement, two counts of possession of a firearm by a convicted felon, two counts of grand theft firearm, two counts of grand theft motor vehicle and driving with a suspended license, according to the Volusia Sheriff's Department. He is being held in Volusia County jail, and in the meantime, video footage of his high-speed chase is getting thousands of shares on social media.
Volusia Sheriff's Department did not respond to Newsweek in time for publication. Chitwood thanked responding units on Twitter, and he expressed gratitude that no one was hurt in the theatrical, albeit dangerous, chase.
"Today's events on I-95. Thanks to all who responded. Glad no one was hurt or worse."