Video Shows Frantic Passengers Clinging to Sinking Ferry in Deadly Accident
A ferry disaster in Indonesia has claimed at least 31 lives. Dramatic video footage and images of the accident have now emerged, showing desperate passengers clinging to the side of the boat as they wait for rescue teams.
The sinking, near Sulawesi island, occurred on Tuesday while the ferry was carrying 164 passengers and crew, Reuters reported. The death toll might have been much worse if not for the quick thinking of the captain, who steered the vessel onto a nearby reef to buy extra time for evacuation.
Indonesia transport officials said the ferry was carrying 48 vehicles when it began taking on water in stormy conditions. The ship was soon swamped with waves and began to sink. Video of the accident showed dozens of life vest-wearing passengers clinging to the sides of the ferry screaming for help. Others can be seen already in the water, some attempting to swim towards the coastline around 1,000 feet away. The boat went down just off the coast of Selayar island.
According to CNN, the overloaded boat had a leak on its port side, meaning the rough seas quickly overwhelmed the ferry.
"The captain ran it onto a reef so it wouldn't sink and to make the evacuation of passengers easier," Agus H. Purnomo, the director general of sea transportation, said in a statement. "The captain and the owner of the ship were the last two people to come down from the passenger ship."
A transport ministry official told Reuters that 130 people had been rescued from the ferry. Some were forced to remain on the stricken vessel overnight before being saved on Wednesday. The ferry was sailing to Selayar island, south of the largest Sulawesi island, from the port of Bira when it ran into difficulty, the Guardian reported.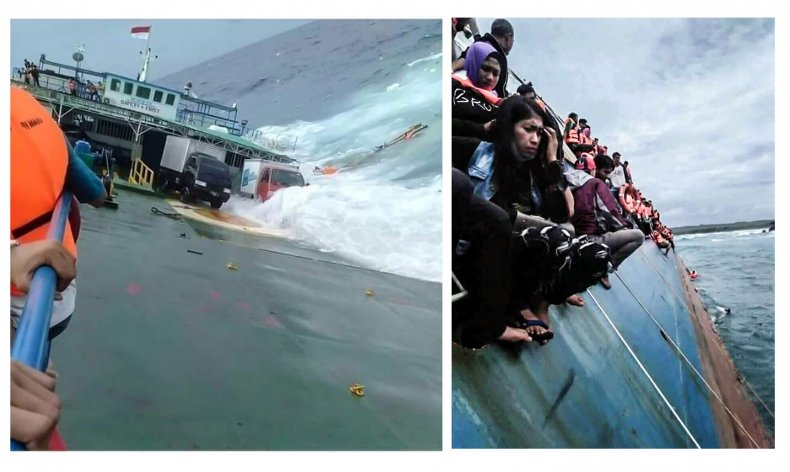 An archipelago of more than 17,000 islands, Indonesia relies on boats and ferries for internal travel. But old vessels and lax safety standards mean there is a pervasive risk of accidents.
The Sulawesi disaster comes just two weeks after 200 people drowned when a wooden ferry sank on a lake in Sumatra. The accident was Indonesia's deadliest in many years. It was caused by overcrowding on a ferry on Lake Toba—one of the world's deepest volcanic lakes.
Search operations were called off Monday due to the logistical challenges of operating in the 1,500 foot-deep lake. The bodies of many victims are still trapped inside the ferry on the lake bed. Just 18 passengers survived.
The Indonesia Ministry of Transportation did not immediately respond to request for comment.