Video Shows Georgia Police Officer Holding 5 Black Teenagers at Gunpoint
A video emerged on social media Monday afternoon of a Clayton County police officer pulling a gun on five black teenagers in Georgia as multiple bystanders plead him to stop.
In the Instagram clip, the teens can be seen standing on the front yard of a house with their hands in the air as the officer holds them at gun point for several minutes.
A woman recording can be heard telling the officer "please sir, they're kids" and asking him why he has a gun, to which the officer says, "because I'm being safe."
Other members of the community are heard off camera pleading "don't shoot" and asking him to put the gun away.
The officer puts down his gun when other officers from the Clayton County Police Department arrive on the scene and the officers begin patting the teens down. The teens are later let go as more police cars are shown arriving, including a Clayton County Sheriff's Office patrol car.
It is unclear why the teens were initially stopped or why they were being held at gunpoint.
According to CBS46's Shon Gables, eyewitnesses said the teens had been "shadow boxing" near a convenience store when the police officer stopped them.
In a statement release Tuesday, the Clayton County Police Department said, "leadership is aware of the incident and the video" but that "what everyone is seeing is a small portion of the entire incident."
The department announced body worn camera footage, the incident report and the initial 911 call will be released later today.
"Chief Kevin Roberts remains committed to being transparent and accountable to our community," the statement read.
Newsweek reached out to Roberts for comments but did not hear back before publication.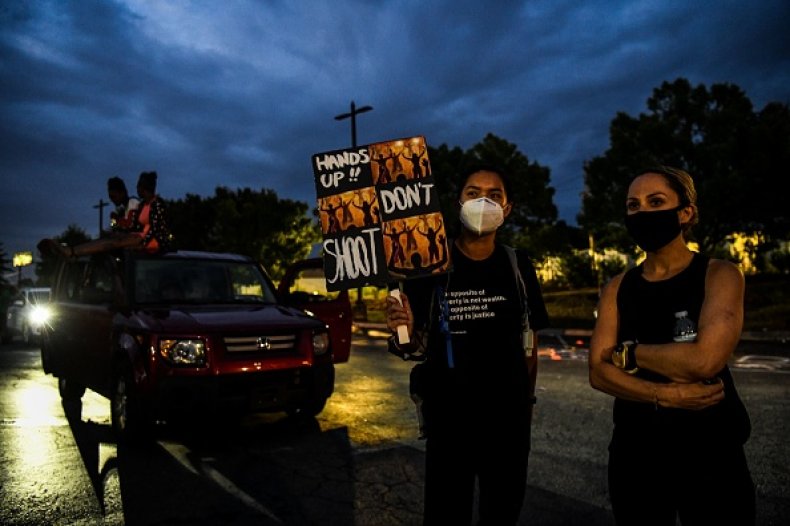 The incident comes as police across the nation are under increased scrutiny.
On Friday, 27-year-old Rayshard Brooks was shot and killed by a police officer in Atlanta, Georgia after Brooks had fallen asleep in his car in a Wendy's drive-thru line.
The officer involved in the shooting has since been terminated and Police Chief Erika Shields resigned on Saturday.
The Wendy's where Brooks was shot was burned to the ground as protesters demanded justice for Brooks over the weekend. These events in Georgia are the latest incidents inciting demonstrations and change.
Protests demanding an end to police brutality, specifically against black communities, have erupted across the U.S. for more than three weeks in the wake of George Floyd's death. Floyd died in police custody on May 25 after a former Minneapolis police officer knelt on his neck.