Surveillance footage shared by the New York City Police Department (NYPD) shows the moments a woman was attacked by four individuals who beat her before stealing her money and walker.
The victim is now in stable condition, but the people who attacked her have not yet been located or identified, police told Newsweek on Friday morning. Police have requested assistance from the public in identifying the attackers.
The incident occurred at about 8:18 p.m. local time on Tuesday in Harlem at the corner of 8th Avenue and West 151st Street, police said. The altercation began with a verbal disagreement that police said the group started with the 61-year-old woman as she was standing at the corner. The incident quickly escalated and became physical.
The group, composed of three women and one man, began kicking and punching the victim, who was tackled to the sidewalk by one of the attackers. The individual who fell to the ground with the victim, a woman seen in the video wearing a yellow T-shirt and light blue pants, continued striking her as the others beat her while standing.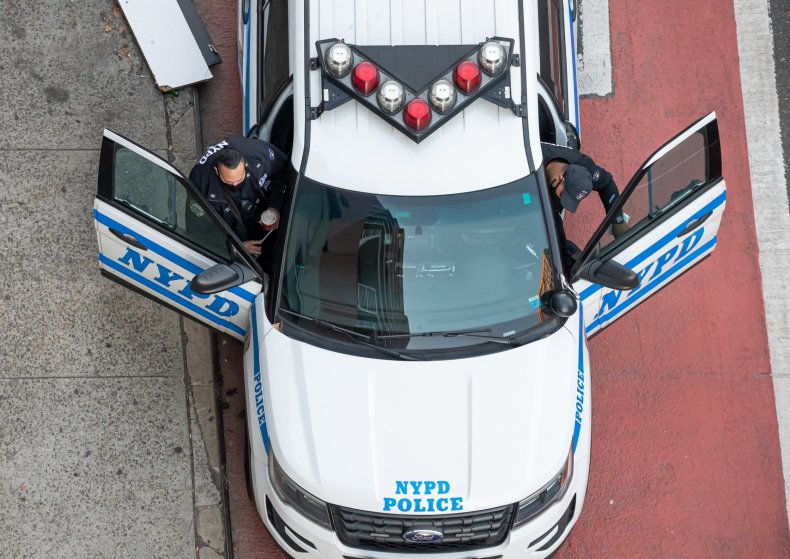 One of the attackers who remained standing, seen in the surveillance video wearing a purple T-shirt and shorts, pulled out a pot and began using it to strike the victim.
Police told Newsweek the group eventually left the victim, taking with them her bag and walker. Her credit cards were inside the bag they stole, along with $22 in cash, police said.
The victim was taken to NYC Health & Hospitals/Harlem for treatment. Police said she was in stable condition when contacted Friday morning for information.
On Thursday afternoon, police posted the surveillance footage on Twitter and announced officers were seeking information about the individuals who attacked the victim. The incident was identified as a robbery in the tweet.
"WANTED for ROBBERY: On 7/20, at 8:18 PM, a 61-year-old female was on the corner of W 151 St & 8 Ave in Manhattan when the suspects started kicking, punching, & hit her head with a pot before removing her cash, credit cards, & walker," the tweet said.
According to the NYPD, the attackers all are believed to be between the ages of 20 and 30. Four NYPD Crime Stoppers photos taken from the surveillance footage showed the two women dressed in purple and yellow shirts, as well as one woman wearing an olive-green T-shirt with jeans and a man wearing a white shirt, dark pants and white shoes.
Individuals with information about the incident are asked to contact NYPD Crime Stoppers.