Video Shows Guard Brutally Beating Inmate Inside Georgia Prison
A video that purports to show the moment a correctional officer brutally attacked an inmate inside a Georgia prison has prompted furious calls for accountability.
The incident took place inside a dormitory for inmates with mental health issues at the Phillips State Prison, a medium-security prison in Buford, on Thursday evening, according to Larry Drew, the president of the Human and Civil Rights Coalition of Georgia.
The clip, apparently filmed through a window by an inmate, shows one inmate arguing with an officer. The officer is heard issuing a warning to the inmate, then counting down from five and striking him repeatedly.
Drew told Newsweek that he learned the inmate in the video had left his cell and approached correctional officers because he had not been fed for around eight hours. "A lot of officers showed up and told him to go back to his cell, you can actually hear him arguing with another officer," he said.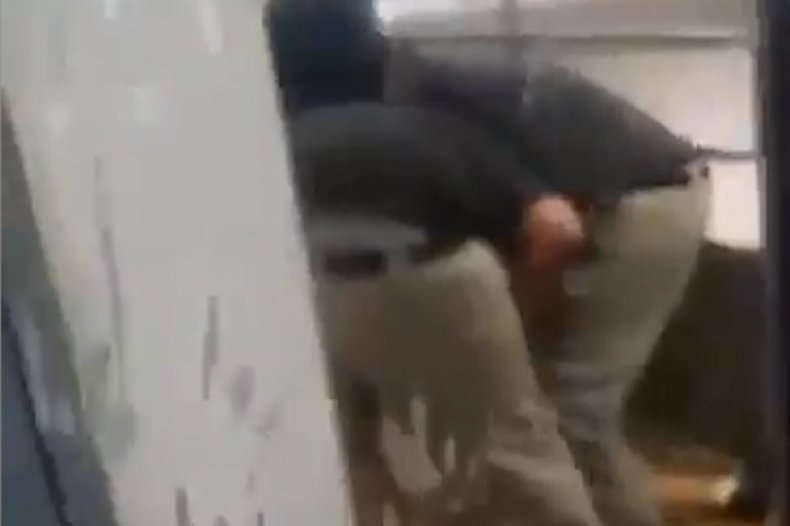 "I guess [the officer] got fed up and said, you know, I'll give you five seconds to go back to your cell and then when he didn't do that, we see what happened... he attacked him and beat him."
Drew said he made the Georgia Department of Corrections (DOC) aware of the video last Friday and filed an open records request to obtain the incident report.
"I immediately sent it to the Corrections department trying to get some type of clarity on what was going on, and they had not even seen the video," he said. "We don't even know if an incident report had been done."
Drew said he was informed that the clip had been passed along to Timothy Ward, the department's commissioner, but has yet to receive any information about the matter.
A spokeswoman for the Georgia DOC told Newsweek it "is aware of the video and the incident is currently under investigation."
Drew and the coalition have called for Gwinnett County's district attorney Patsy Austin-Gatson to file charges against the officers involved in the incident. Brenda Lopez Romero, senior assistant district attorney, confirmed to Newsweek that Austin-Gatson's office is looking into into the video.
This marked the latest in what Drew described as a pattern of abuses due to chronic staff shortages in Georgia prisons.
"We deal with this stuff all the time," he said. "Unfortunately, it's not recorded often."
He continued: "Georgia prisons are just so short-staffed that [inmates] may be in their cells for eight, nine hours without seeing an officer.
"It's a pattern of events, unfortunately, that we've been hearing about way too often the last two months. It's a pattern of unfortunate abuse... the officers that do come to work are stressed out, and they take their frustrations out on inmates."
Drew said in some instances, inmates who have been attacked have been forced to break windows and doors to seek medical attention due the scarcity of correctional officers.
He cited a riot at Ware State Prison in Waycross in the summer of 2020 where he said only a handful of officers had been on duty in a facility that holds around 1,500 inmates.
Earlier in 2021, the DOC announced that six employees at Georgia State Prison in Reidsville were fired and arrested following an investigation into their actions against an inmate who officials said assaulted a guard.
Drew said a change in leadership was needed to resolve the issues in Georgia's prison system.
"You've had riots, you've had countless deaths, countless suicides," he said. "At this point, you know, we have no faith that the current leadership can handle these issues. This is happening, it's a pattern. We hear about it everyday and thankfully, this one was recorded.
"Someone needs to take over the system and get it back together. Because, I mean, it's broken."
Update 6/29 11 a.m. ET: This article has ben updated with comments from the Georgia Department of Corrections and thee Gwinnett County district attorney's office.