Video Shows Hiker Who Roared to Scare Off Mountain Lion Stalking Him
While out for a hike near Pyramid Lake in California, a man resorted to roaring at a mountain lion when he discovered he was being followed.
Dutch Faro filmed a video, which was provided to KTLA, as he walked down a dirt path and listened to some music. He panned around his surroundings, before turning around to spot a mountain lion bounding after him.
"Oh s**t!" Faro exclaimed, moving backward while still facing the large cat.
He yelled at the mountain lion, which did not deter it before he let out a roar to scare the large cat. The mountain lion darted into a nearby bush and Faro stood his ground, watching the bush to ensure his unexpected hiking partner did not come back out before the video ended.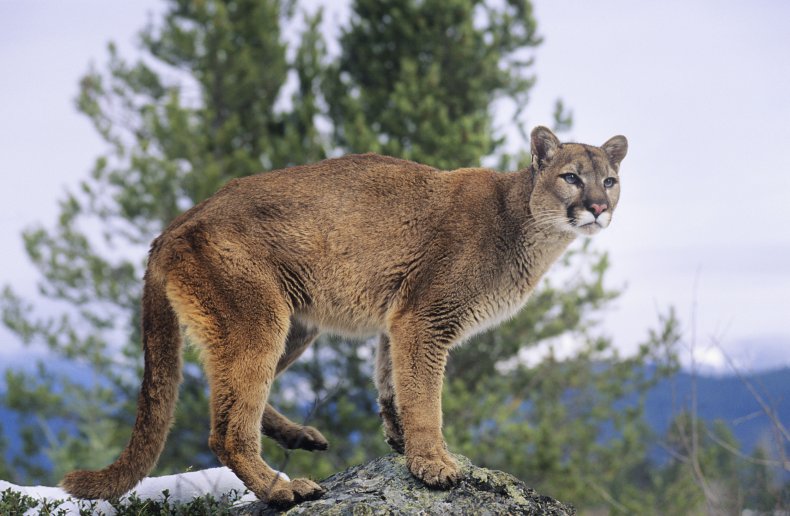 KTLA reported that Faro saw the mountain lion in his peripheral vision.
"And then I tried to yell at it, nothing happened," he said. "And it was just about to jump and pounce on me and...I had primal instinct and roared at it."
The National Park Service's webpage for Point Reyes—a national seashore located in California—stated that mountain lions are typically calm, quiet and elusive. While mountain lion attacks were reported as low, the agency provided a few safety tips for hikers.
They encouraged people to hike in a group and for adults to supervise children.
If a hiker sees a mountain lion, they should stay calm, face the lion and stand up straight. Hikers should also provide an escape route for the mountain lion rather than trying to approach it.
"Never approach a mountain lion, especially one that is feeding or with kittens," the agency stated. "Most mountain lions will try to avoid a confrontation. Give them a way to escape."
Hikers can also appear intimidating by making themselves look larger. If that does not work, a hiker can throw stones or branches in its direction without hitting the mountain lion.
"Aim for the ground in front of it; don't throw things directly at it just yet," the agency stated. "Think of these as warning shots."
Justin Dellinger, a wildlife biologist with the California Department of Fish and Wildlife, echoed the advice to Newsweek and said he watched the video.
He said that Faro's strategy to make himself appear intimidating worked.
Dellinger also noted that a great deal of California is the appropriate habitat for mountain lions, but there are rarely reported attacks.
"If we were on the menu, we would know it by now," he said.
Faro told the outlet that he was surprised the mountain lion, not yet fully grown, ran off but was also concerned that its mother would pose a bigger threat. He said if he faced her, he would have jumped into the lake.
Uninjured, was able to make his way back to his car.
Newsweek reached out to Dutch Faro for further comment but did not hear back in time for publication.
Faro is not the first to have a close encounter with a mountain lion.
Newsweek previously reported that Charles Zelenka, a Colorado resident, shared photos and videos on his Facebook page in early January that showed a mountain lion killing an elk on his front porch.