Video Shows Honolulu Man Apologizing to Residents Before Being Fatally Shot by Police
Lawyers representing the family of a man who was fatally shot by Honolulu police two months ago have released new video showing the events leading up to the man's death, which suggests that the fatal encounter was the result of a miscommunication.
Doorbell camera footage obtained by the family's attorneys shows Lindani Myeni arriving at a house on April 14 and taking off his shoes before entering the home. He is then seen quickly leaving and repeatedly saying "I'm sorry" to the occupants who were confused by his arrival.
The family's lawsuit says Myeni likely mistook the house for a similar-looking building next door that houses a temple open to the public.
However, despite his apology for the confusion, the man and woman in the home—who were tourists staying in the multi-unit dwelling, lawyers said—called 911 to inform them of the incident. The woman stated that Myeni was unarmed.
When police arrived on the scene, officers yelled at Myeni: "Get on the ground now."
Myeni is heard responding: "Who are you?"
Police body camera footage shows officers tasing Myeni with a stun gun that either malfunctioned or had no effect on him before officers drew their guns and shot Myeni four times.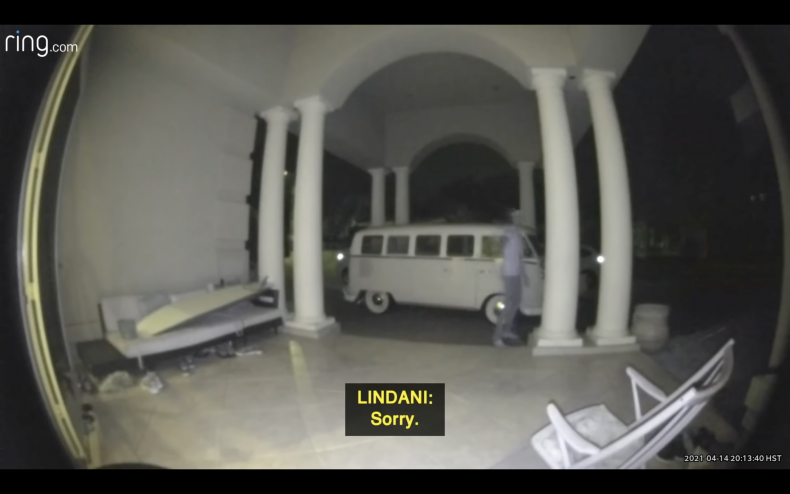 Short clips from police body cameras were initially released by Honolulu police, who said Myeni's behavior frightened the occupants and claimed that he violently attacked the officers on the scene, leaving one hospitalized with a concussion.
However, the lawyers who released the new surveillance video said that police "tried to convince the public that this was a burglary and that Lindani Myeni was acting erratically; but the doorbell video we have now obtained from the owner shows that HPD knew all along these stories were untrue."
Attorneys are asking the city to turn over unredacted body camera footage in its original format.
Myeni's widow is filing a wrongful death lawsuit alleging that the officers were motivated by racial discrimination because Myeni, a South African, is Black. The shooting occurred three months after the family had moved from Denver to Hawaii, where the widow, Lindsey, grew up.
Lindsey, who is white, believed Hawaii would be the safest state to raise the couple's two young Black children due to the island's racial diversity.
"We never thought anything like this would ever happen there," she told the Associated Press in an interview. "We were refreshed to be back to somewhere that is so diverse."
Now-retired police Chief Susan Ballard maintained that officers were reacting to Myeni's behavior and were not motivated by his race.
"This person seriously injured the officers and their lives were in jeopardy," she said at the time.
Newsweek reached out to the Honolulu Police Department for comment on the newly released footage, but did not hear back before publication.