Video Shows Hundreds Protesting Outside Emirates Stadium Against Arsenal Owner Stan Kroenke
Video shows hundreds of Arsenal soccer fans protesting against club owner Stan Kroenke outside Emirates Stadium in London ahead of a game against Everton on Friday.
Soccer fans are outraged over the attempted European Super League, which was announced on Sunday when 12 of Europe's most successful soccer clubs—including all six English clubs—announced they would walk away from the Union of European Football Associations (UEFA) and establish a breakaway league.
Arsenal, like the U.K.'s other five Premier League teams, has withdrawn from the proposed Super League after harsh criticism from players, fans and governing bodies of soccer. Much of the heat has fallen on the clubs' American owners, including Kroenke, as well as Liverpool's John Henry and Manchester United's Joel Glazer.
But even after Arsenal quit the project in response to the growing backlash and apologized to fans, hundreds showed up on Friday to demand that Kroenke leave the club for joining the Super League to begin with.
Videos on Twitter show Arsenal fans chanting "F**k Stan Kroenke, get out of our club" and hanging banners that read "Arsenal till I die. Kroenke out" and "Our club our home sell up Stan."
Fans marched down the stairs from the concourse to the box office and team store.
Kroenke first became involved with the club in 2007 and then purchased Arsenal in 2018. The billionaire businessman also owns the Los Angeles Rams of the NFL, the Denver Nuggets of the NBA, the Colorado Avalanche of the NHL and the Colorado Rapids of Major League Soccer.
But Kroenke has no plans to leave despite widespread upset among Arsenal fans. Arsenal's director and Kroenke's son, Josh, said they have "no intention of selling" the club despite the backlash.
"I believe we are fit to carry on in our position as custodians of Arsenal. We were put in a very difficult position by forces outside of the club," the younger Kroenke said Thursday.
"I might be met with mistrust and skepticism, but over time I hope to establish some sort of relationship with our supporter groups and show them we are capable of taking our club forward," he added.
Spotify co-founder and longtime Arsenal fan Daniel Ek expressed his interest in buying the club from Kroenke on Friday, tweeting, "As a kid growing up, I've cheered for @Arsenal as long as I can remember. If KSE would like to sell Arsenal I'd be happy to throw my hat in the ring."
Ahead of the match against Everton, Arsenal manager Mikel Arteta told Sky Sports, "We hear them. Obviously, it doesn't help when you have your own fans trying to stand out on a match day and saying loud and clear they're not happy with something. But our job is to win the football match, and when that happens, everything is better."
Friday's protest was similar to what Chelsea fans did Tuesday and Manchester United fans did on Thursday. About 20 Manchester United fans were able to break into Old Trafford Stadium and protested the Super League on the pitch.
In a statement Tuesday night, the Super League said, "Given the current circumstances, we shall reconsider the most appropriate steps to reshape the project."
Chelsea's and Manchester City's decision to backtrack on Tuesday night dealt a major blow to the proposed league. Hours later, the other four Premier League clubs decided to follow suit.
"We made a mistake, and we apologize for it," Arsenal said in a letter to its fans. "As a result of listening to you and the wider football community over recent days we are withdrawing from the proposed Super League."
U.K. Prime Minister Boris Johnson, who was opposed the Super League, lauded the league's collapse on Wednesday, tweeting, "I welcome last night's announcement. This is the right result for football fans, clubs, and communities across the country. We must continue to protect our cherished national game."
Former Arsenal player Ian Wright also joined fans against Kroenke, tweeting "#KroenkeOut" and saying the current owner is "not fit to run the club, not fit to own the club." Wright told sports streaming service DAZN that if Kroenke plans to stay on, it will "have to be done under different terms."
Reacting to Arsenal's initial decision to join the Super League, Wright said, "I literally can't believe when I saw Arsenal's name come up, come up on the screen as one of the teams," in a video posted to Twitter.
"It makes me very sad. The fans, there's no way the fans—the fans will see straight through it. I just love the way that everybody is roundly condemning this, and we have to stick together with this. We have to," he said.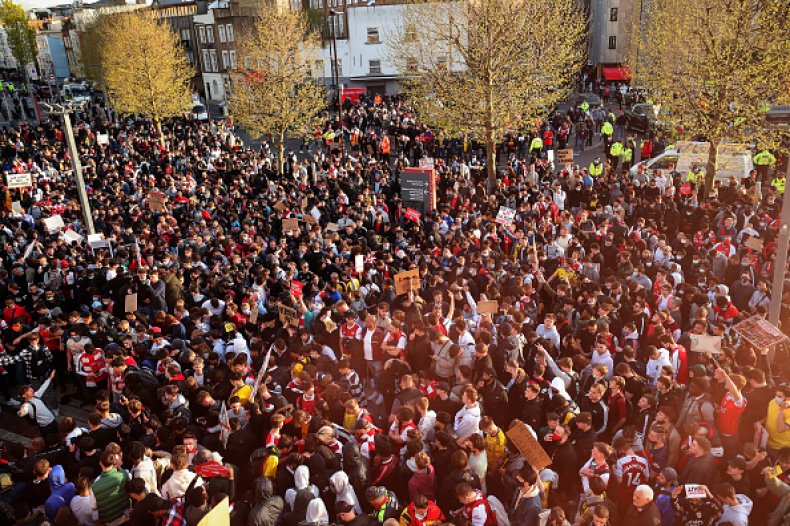 Super League founders may have underestimated fans' passion for their clubs and the meritocratic European soccer model, leading to a backlash more intense than they expected.
It's unclear if the 12 teams will be welcomed back by the UEFA, the Fédération Internationale de Football Association and domestic leagues without repercussions.
On Wednesday, UEFA President Aleksander Ceferin issued a statement acknowledging some of the team's withdrawals, saying, "I said yesterday that it is admirable to admit a mistake, and these clubs made a big mistake."
He added, "But they are back in the fold now, and I know they have a lot to offer not just to our competitions but to the whole of the European game. The important thing now is that we move on, rebuild the unity that the game enjoyed before this and move forward together."
Newsweek reached out to Arsenal for comment but did not hear back before publication.