Video Shows Irate Mom Threatening School Board With Guns Over Mask Mandates
An angry mom in Virginia showed up to a local school board meeting ready to "bring every single gun, loaded" if her children's district continued to mandate masks for in-person learning.
Video of Page County Public Schools' Thursday board meeting shows a mother, who identified herself as Amelia King, refusing to send her kids to school with masks next week.
"I typically come to these meetings with a written statement. I like to sound educated and when I go off the cuff, I get really passionate. I'm not always able to say exactly what I want to say in the appropriate way," King began.
She described going over her allotted three minutes to speak at the last meeting and being upset that she was cut off. She alleged that one of the board members then requested back up for her arrest because she continued to speak even after she was told to stop.
"I'm not sure why it is you can't give me the time with a prepared statement so I'm not rambling on and wasting your time, but I decided to come without that prepared statement today," King told the board.
"We went along with the last governor's mandate. The executive order seemed to be awesome, just applauded by everyone here on the board and that is the path that we took," she said.
But with a new governor in Virginia and the state's mask mandate for schools now rescinded, King said students shouldn't be required to wear masks.
"No mask mandates. My child, my children will not come to school on Monday with a mask on, alright? That's not happening. And I will bring every, single gun, loaded and ready to—" she said before being cut off at her three-minute mark by a board member. King left the podium without incident, saying to the board, "I will see you Monday."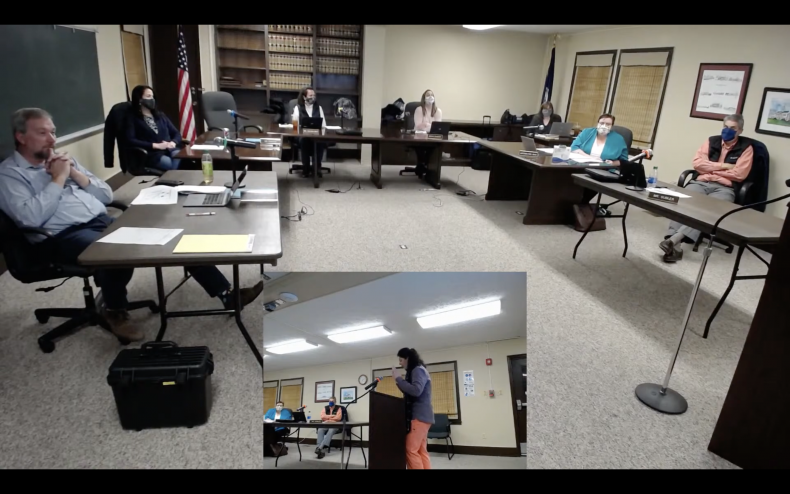 Last August, former Virginia Governor Ralph Northam announced a public health emergency order requiring masks at all K-12 schools in the state.
"That requires all students, teachers, staff, visitors in our public and private K-12 schools in Virginia to wear a mask indoors and that's regardless of their vaccination status," Virginia Department of Health's Dr. Laurie Forlano said at the time.
Since succeeding Northam earlier this month, Governor Glenn Youngkin has rescinded the order, allowing individual parents and students to decide if they will mask up at school.
But citing existing Virginia law that advises districts to follow CDC guidelines, Richmond, the city of Alexandria, Henrico, Fairfax and Arlington County public schools have all said their mask mandates would remain in place.
Thursday's meeting in Page County brought many parents who wanted to say their piece on whether their district should follow or defy Youngkin's new order.
"I still fight for transparency," King told the board. "I still think that you need to honor the wishes of parents and as I emailed on Tuesday, we need to think as a collective county. We don't need to worry about what Richmond has to say. There's a lot of science. There's a lot of good science. The mask protects the person that's wearing it."
At the end of the meeting, the school board voted in favor of the order despite the county seeing its highest daily new cases of COVID last week.
Starting Monday, parents can fill out an "opt-out" form if they choose not to send their kids to school with a mask. Students returning from quarantine will still have to wear a mask for the first five days following their isolation.
All staff will still be required to wear masks.
"Parents, you have a responsibility in this decision. In that, as we go forward whatever the outcome, the ball is in your court when it comes to your child coming to school if they're sick," the board's vice-chair, Jackie Sullivan-Smoot, said on Thursday.