Video Shows L.A. Police Shooting Man 12 Times After He Sought 'Suicide by Cop'
Recently released bodycam video footage from the Los Angeles County Sheriff's Department (LASD) shows deputies shooting David Ordaz Jr., a 34-year-old, 12 times. Before Ordaz died in the shooting, he told his sister that he wished to die through "suicide by cop", provoking police into lethally shooting him.
LASD Sheriff Alex Villanueva said he saw the video and had "grave concerns" about the shooting. The officer involved has been relieved of duty pending an investigation. The man's family has since filed a federal wrongful death lawsuit against the county, The Los Angeles Times reported.
"I'm currently with someone who is telling me they're suicidal," Ordaz's sister told a 911 dispatcher on March 14, the day of the shooting. "I was just wondering if you could guide me on what I can do to help them."
Ordaz's sister told police that she was sitting with him in a car outside of the family's home. She said Ordaz was armed with a 12-inch kitchen knife and that he might be on methamphetamines, a stimulant. She said that he had also mentioned "suicide by cop," which made her "afraid" for his life.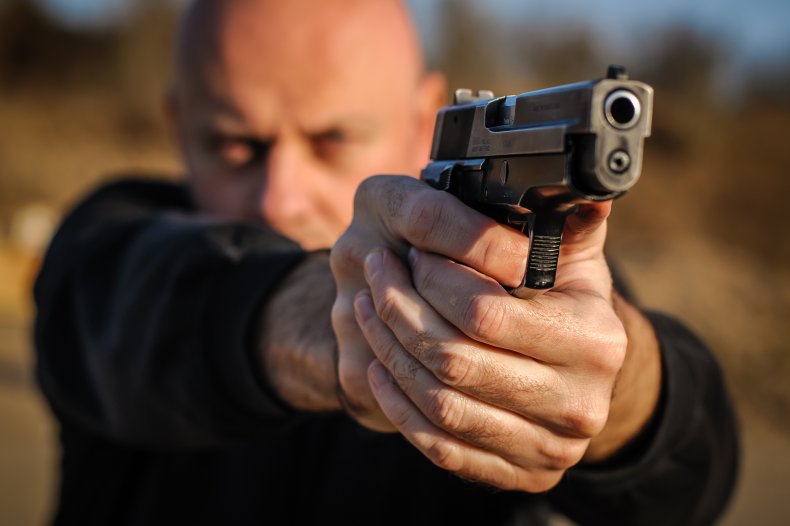 Bodycam footage of the incident shows that deputies arrived and Ordaz exited the car, knife in hand. He talked with police for several minutes. One deputy kept his gun pointed at Ordaz while saying, "We're not here to shoot you, dude. We're trying to help you out."
A second officer asked Ordaz, "Why are you upset today?"
Ordaz responded, "Because you won't f*cking shoot."
The officers repeatedly told Ordaz to put the knife down so that they could help him. Ordaz's family members also exited the house to try and talk to Ordaz. Police told the family members to go back inside to avoid potentially being hit by any bullets.
Officers requested less-lethal weapons and a mental evaluation team, an LASD spokesperson told The Los Angeles Times. But after firing a beanbag round at Ordaz, Ordaz began walking towards officers while still holding his knife. Officers then began shooting. In the video, a woman from the family began screaming as officers shot 12 bullets at Ordaz. Officers kept firing even after his body hit the ground.
Experts told the aforementioned publication that the video showed "a clear policy failure" with police failing to properly de-escalate a mental health call. One expert said that LASD officers should've discussed a strategy with Ordaz's family beforehand and also had a crisis intervention specialist talk calmly to the man.
In a July 30 statement, LASD Sheriff Alex Villanueva said, "I want to clearly state I have grave concerns regarding this deputy-involved shooting."
His department declined further comment on the ongoing investigation into the shooting. The department will share its investigation's findings with the L.A. County district attorney and FBI who will determine the shooting's legality.
Newsweek contacted the National Alliance on Mental Illness for comment.
If you have thoughts of suicide, confidential help is available for free at the National Suicide Prevention Lifeline. Call 1-800-273-8255. The line is available 24 hours every day.