Video Shows Large Waterpark Brawl That Led to Two Arrests
A massive fight broke out at Sandusky, Ohio's Kalahari resort water park early last week, leading to the arrests of two individuals involved.
According to WKYC Studios, witnesses reported that the dispute began after someone cut the line for a ride. A clip of the incident, later posted to YouTube, suggests that at least ten people were involved in the brawl, many of whom were park employees attempting to intervene.
At one point in the video, a woman—later identified by WKYC as 23-year-old Brittany Cabay—is thrown to the ground after punching someone. Cabay is shown bleeding from her head, and she reportedly briefly lost consciousness.
That didn't stop the fighting. As the Flint, Michigan resident lays on the ground, another woman is seen picking up a nearby chair and hurling it at a man standing across from her. Soon after, that same man—later identified as 24-year-old Zackary Colzin—starts punching an EMT before he is tackled to the ground.
WKYC says that Colzin also briefly lost consciousness after the EMT tackled him "in self-defense." When officers arrived at the scene, he reportedly regained consciousness but immediately began punching and cursing at an officer. As he was removed from the scene, Colzin reportedly continued to swear, yelled racist slurs, and threatened to hurt himself.
Meanwhile, Cabay also resisted police intervention and was subsequently arrested—WKYC says she refused medical treatment and directed death threats at police and paramedics. They also reported that Cabay also would not identify herself to authorities because she "was in school to be a police officer." Her mom reportedly identified later on.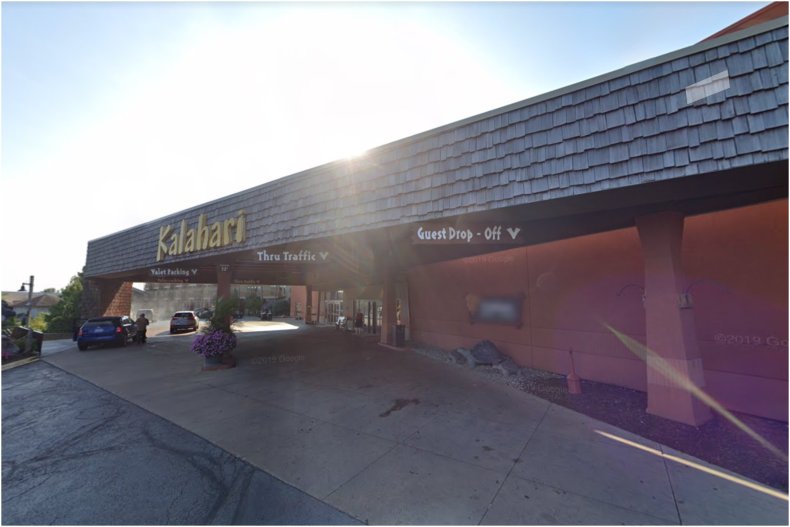 According to police, both Cabay and Colzin were under the influence of alcohol, "based off [their] strong odor of intoxicants." After the arrests, the two were taken to a medical facility to be treated for their injuries.
Following their hospital visit, Cabay and Colzin were both brought to
Erie County Jail, where they each received a litany of charges including "persistent disorderly conduct while intoxicated" and "failure to disclose personal information," says WKYC.
This incident is not Colzin's first brush with law enforcement: he reportedly has a warrant out for his arrest in his home state, Michigan, on charges relating to the theft of a motor vehicle.
In a statement to Newsweek, Sheriff Paul Sigsworth of Erie County, Ohio, confirmed that "no additional arrests have been made as of this time and the cases for those who were arrested are being handled in court." He added that "there are no additional developments other than those that have been publicly reported."